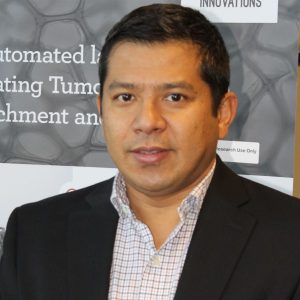 Kalyan Handique
Entrepreneur of the Year
Michigan has experienced, competitive entrepreneurs, like Kalyan Handique, who are willing to take risks.  The Entrepreneur of the Year nominees are innovators who are fostering a vibrant entrepreneurial community and are setting the stage for the next generation of startups and entrepreneurs in Michigan.
Kalyan Handique founded Celsee Diagnostics along with biologists-entrepreneurs, Priya Gogoi, Saedeh Sepehri and Chris Siemer in 2011. Celsee is a life sciences startup that recently received follow-on investment to speed up commercialization of its cancer-detection technology. Celsee attracted national attention when it won the grand prize of $500,000 at the Accelerate Michigan Innovation Competition (AMIC) in November 2011. Prior to his role at Celsee Diagnostics, Handique co-founded HandyLab Inc. with Sundaresh Brahmasandra while they were students at the University of Michigan. The company would go on to become one of the most successful startups in state history. Handique is originally from India and came to the United States in 1995 to get his Ph.D. in chemical engineering.
---