View the NEW 2017 MVCA Research Report Here!
For Immediate Release April 11, 2017 – Ann Arbor, MICH. – The Michigan Venture Capital Association has released its 10th Annual Research Report, reflecting the state of Michigan's venture capital community in 2016.  The report shows that Michigan venture firms are critical to the success of Michigan's entrepreneurial community, as Michigan venture capital funds were invested in nearly every Michigan startup that raised venture capital last year.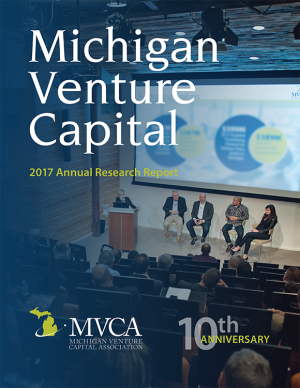 Click to Tweet: 2017 #MichiganVCA research report shows importance of #Michigan entrepreneurial & investment community to #economy https://ctt.ec/sDPix+
"The data in the 2017 MVCA Research Report proves that the health of the state's entrepreneurial economy hinges on our industry's ability to provide capital to the state's high-growth, high-potential companies," said Maureen Miller Brosnan, executive director of MVCA.  "Fifteen years after the founding of the Michigan Venture Capital Association, we've never been prouder to represent the 33 venture firms in Michigan, all of whom are willing to take chances on tomorrow's big ideas today."
The organization will host the 2017 MVCA Research Report Release at NextEnergy in Detroit on April 19.  The analysis of the report is here; key findings of the 2017 MVCA Research Report include:
There were 141 active venture-backed startups in Michigan in 2016, which is a 48 percent increase in the last five years.
54 startups in Michigan received more than $222M from Michigan venture capital firms in 2016, a 42 percent increase from the previous five years.
Every $1 invested in a Michigan startup by a Michigan venture capital firm attracts $4.61 of investment from outside of Michigan.
There are 33 venture firms headquartered or with an office in Michigan.
Total venture capital under management in Michigan in 2016 was $4 billion, a 34% increase in the last five years; however, a 24% decrease over the previous year.
In the last five years, the number of venture capital investment professionals living, working and investing in Michigan has increased by 41 percent.
$16.9 million was invested in Michigan startups led by a CEO who is a minority, is female, or identifies as LGBTQ.
This year, MVCA expanded the research report to include mobility as a sector of focus. 6 percent of all investments made by Michigan venture capital firms were in mobility startups.
Brosnan notes that while there is much to celebrate in Michigan's fast-growing world of entrepreneurialism, there are signs the market is refining.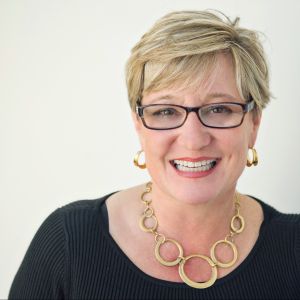 "Our research indicates the entrepreneurial and investment community is growing in Michigan, but we still have work to do to ensure it continues its long-term success," said Brosnan.
Total venture capital funds under management in Michigan decreased 24 percent compared to the previous year, creating a challenge for startups in Michigan looking for funding to hire people and expand their businesses.  Moreover, while Michigan welcomed several national firms interested in building stronger relationships within the Michigan entrepreneurial and investment community, for the past two years Michigan has experienced a decline in the number of venture firms – the first decreases in 15 years.
The research also indicates a potentially inadequate capital supply for our fastest-growing companies.  The 33 venture firms in Michigan estimate that funds needed for new investments, coupled with the need for follow-on funding for their 141 Michigan-based startups, exceed what is currently available, reflecting the requirement for additional funds to help Michigan's many venture-backed businesses succeed.
"Venture capital investors are ensuring there is a robust capital continuum for Michigan's entrepreneurs and their growing businesses," said Brosnan. "The ability to adequately fund companies at all stages of growth is critical to growing companies in Michigan, keeping them in Michigan, and securing Michigan's economic health in the long run."
---
About Michigan Venture Capital Association
The Michigan Venture Capital Association (MVCA) is a non-profit trade organization designed to increase the amount of capital and talent available to venture and angel investors for the funding of Michigan's most innovative entrepreneurs, as well as to work closely with them to transform breakthrough ideas into new companies and industries that drive Michigan job creation and economic growth.  MVCA membership includes private and corporate venture capital funds, angel investors, universities and economic development participants, and service providers. More than 400 individuals are members of MVCA, representing over 100 organizations across the nation. For more information, visit www.MichiganVCA.org.
Questions? Contact:
Amber Pineda
Marketing and Communications Manager, Michigan Venture Capital Association
o: 734-585-0324