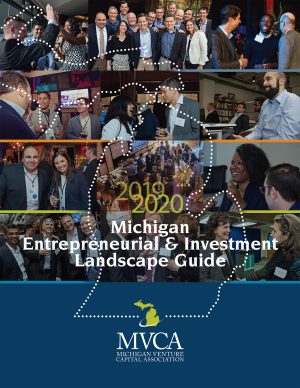 Michigan Venture Capital Association (MVCA) is excited to announce the 2019-2020 Michigan Entrepreneurial & Investment Landscape Guide! The guide is a critical resource for entrepreneurs who want to connect with investors, entrepreneurial support organizations, and service providers in Michigan. Included in the guide is contact information, addresses, sectors and stages for venture firms and angel organizations in addition to services provided by entrepreneurial support organizations and service providers. By providing this information, we hope to bridge meaningful connections that can help entrepreneurs grow their idea into a business.
According to the 2019 MVCA Research Report, Michigan's entrepreneurial and investment community is continuing to gain momentum with 61 startups received nearly $385 million from venture capital firms in 2018. The updated Landscape Guide contains 158 profiles of venture firms, angel investor groups, entrepreneurial support organizations, and service providers that are supporting the growth of these companies.
2019 Snapshot of Michigan's Entrepreneurial & Investment Community:
Michigan entrepreneurs are served by 3,119 professionals working at 158 organizations.
There are 54 investment organizations with 49 actively investing.

Of the 54 investment organizations in the state, the primary stage focus is in the startup/early-stage and information technology sector.

There are 104 entrepreneurial support organizations in Michigan.

Of the 104 entrepreneurial support organizations, the primary stage focus is at the seed stage and the information technology sector.

Ann Arbor has a total of 45 organizations, making it the most densely populated regions in the state for investment and entrepreneurial support organizations.
MVCA also provides a Landscape Map that allows users to navigate the community by sector, geographic location, and organization type. Unlike the Landscape Guide, the Landscape Map also includes Michigan-based venture capital firms' portfolio companies and out-of-state organizations. These resources connect organizations from across the country that want to expand their networks and build a robust entrepreneurial and investment community in Michigan.