By Kelly Sexton, Associate Vice President for Research – Technology Transfer and Innovation Partnerships
The University of Michigan's research enterprise is an engine for creativity, discovery and innovation.  U-M researchers have invented amazing technologies — new therapeutics that improve the lives of people around the world, the Intralase Lasik eye procedure that has given the gift of improved vision to millions, OLED display technology, and autonomous vehicles that enhance access to mobility.  Increasingly, these new technologies are being brought to the marketplace through the launch of new startup companies.
The technology behind U-M startup company Neurable was created in a University of Michigan research laboratory on the premise that it is possible to control a device without touch or voice by measuring and classifying brain activity. Today, Neurable is a 10-person (and growing) team of scientists, engineers, and sales people developing the "everyday brain-computer interface," with the goal to bring the value of neurotechnology to all. Although Neurable launched in Ann Arbor, a $2M seed round investment led them to relocate to Boston. They have raised more than $13M, and are working towards launching their first large-scale consumer product.
As excited as I am for Neurable, I can't help but wonder about the contributions they could have made to the Southeast Michigan entrepreneurial ecosystem had they been able to grow and scale their company here.
Part of the issue is that it takes startups based in Michigan nearly two years longer to raise their first $500,000 than companies based on the coasts. This lack of early-stage investment in the Great Lakes region places U-M startup companies at a competitive disadvantage as compared to startups being launched by coastal universities. The economic uncertainties that our state and nation are facing due to the Covid-19 pandemic only heighten my drive to ensure that the innovations created at the University of Michigan have every opportunity to spur economic growth in our region.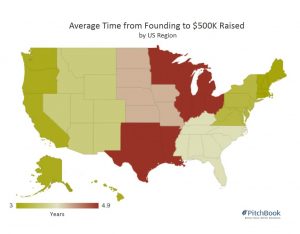 The University of Michigan is a global university, and the ultimate goal of our technology transfer efforts is to ensure that the innovations created across our campuses are commercialized in a way that maximizes their benefit to society. As a public university, we also recognize that we have an opportunity to play an important role in supporting the growth and diversification of our state's economy by helping to create an opportunity for U-M startups to grow and thrive locally.  This economic boost is needed now more than ever before.
With that in mind, we are working to create a new source of early-stage funding for startup companies working to bring University of Michigan technologies to the marketplace in the areas of climate tech, big data, legal tech, cybersecurity, AI, sustainability, software, fintech and more — the Accelerate Blue Fund, an early stage evergreen venture fund raised through philanthropy. This fund builds on the successful model that has been put to use at U-M since 2016 through the Michigan Biomedical Venture Fund for U-M Tech Transfer's startup companies in the healthcare space.
A recent gift from Amazon to the Accelerate Blue Fund places us nearly halfway to reaching our initial fundraising goal of $2M, which would allow us to begin making investments in U-M startup companies, hopefully by early 2021. We have plans to grow the fund to at least $20 million over time so that it will become an evergreen source of capital for U-M startups. Accelerate Blue will provide early stage funding to U-M's most promising startup companies so that they may reduce technical risk, attract business talent, validate product-market fit and attract first customers.
As we work to raise this Fund, we are having great conversations across the country with U-M alumni who are entrepreneurs and investors that are excited about the opportunity to catalyze the success of U-M's pipeline of world-changing startup companies. Through this fundraising effort, we are making great connections for the U-M startup portfolio and for our region. In addition, we have early support from the local ecosystem, including people like Chris Rizik, CEO and Fund Manager of Renaissance Venture Capital Fund, who is volunteering his time and energy to chair the Accelerate Blue Investment Advisory Board.
Despite the economic uncertainties we are all facing, I would argue that there has never been a better time for an effort of this scale – we have the momentum and infrastructure to make this a success and to support the growth of UM startup companies so that we emerge from the Covid-19 downturn stronger than before. An ongoing partnership between the University of Michigan and the Michigan Economic Development Corporation has created one of the nation's most successful university-based startup mentoring teams in the country, with 11 mentors-in-residence working to support startup companies being formed at U-M and collaborating universities around our state. Our faculty have never been more engaged in technology commercialization efforts, with over 50 startup companies launched in the past 24 months.
I believe that the Accelerate Blue Fund is needed to unlock the potential of these nascent startup companies and to help create the environment for them to be successful. By de-risking these companies through our early investment and pairing them with experienced entrepreneurs for mentorship, we will help U-M startups build a stronger investment thesis and accelerate engagement with later-stage VCs and potential corporate partners.
Does the launch of Accelerate Blue mean that we'll never again lose a high-growth potential startup to the coasts? Of course not. Our goal is to invest early with a risk-tolerant capital philosophy in our most promising startups, allowing them to accelerate the commercial development of their technologies.  Our hope is that by making them more attractive to downstream investors we will enable more of these startups to continue growing and scaling their businesses in Michigan.
The pandemic has highlighted that more of our business can be done remotely – this may very well translate to coastal VCs becoming more comfortable investing in companies that are a flight (or a Zoom call) away. Accelerate Blue is poised to help our region capitalize on this trend by helping more U-M startups become investor-ready.
If you're interested in learning more, please visit www.AccelerateBlueFund.com. We hope to connect with you as we work to redefine how world-class university research can fuel a region and solve the world's greatest challenges.