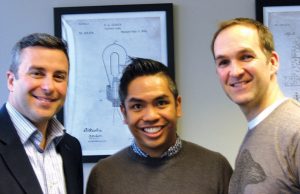 MVCA member Draper Triangle leads Series A financing round with Baird Capital, Detroit Venture Partners, and Invest Michigan.
DETROIT, Mich. – Autobooks, a financial technology company that builds cash management tools to help small business owners, announced the closing of a $5.5 million Series A financing round led by Draper Triangle. This investment follows the company's self-funded $2M seed round, enabling the company to expand its team and product offering while increasing distribution channels.
"We are really pleased to have such a strong group of local and national investors, including VC funds and a strategic partner," said Autobooks CEO Steve Robert. "This funding will enable us to expand our operations, which is already well underway with multiple credit unions and banks, and to refine our product, sales, distribution, and marketing strategies to better serve small businesses."
Small businesses are underserved by financial institutions. Often, they are too small for commercial products and too large or complex for consumer tools. Autobooks has developed a platform to enable credit unions and banks to offer a compelling digital experience tailored to the unique needs of small businesses. A recent Barlow Research study states that 70% of small businesses would use a cash flow management tool if it were offered by their primary financial institution. Autobooks helps banks and credit unions expand beyond basic bill pay functionality, providing small business customers with a simple, yet comprehensive 'bundled' tool for receivables, payables, payments and accounting – all from within their existing online banking system.
"Autobooks is an exciting combination of entrepreneurial innovation allied with credit unions and banks who have existing distribution access to small business customers," said Jay Katarincic, Managing Director, Draper Triangle. "There is tremendous opportunity for financial institutions to partner with fintech companies, especially those that understand how to navigate the complex financial, technical and regulatory environments."
Small business owners are looking to increase cash flow, while reducing expenses by moving business functions to digital channels that create efficiencies and extend the business day past branch and post office hours. Financial institutions are organizing themselves to meet the changing needs and expectations of more sophisticated small business owners.
The founders of Autobooks have experience with payment and accounting systems, as they previously built Troy, MI based Billhighway – which served large enterprises. The team successfully scaled that business to millions of users, processing billions of dollars annually. "The Autobooks team has unique domain knowledge and a compelling vision for a new generation of banking applications," says industry veteran Don Layden, a Venture Partner at Baird Capital.
"We're seeing tremendous interest in small business cash-management and integrated accounting solutions from financial institutions small and large," says Mr. Robert. "Banks and Credit Unions are looking for differentiated product offerings that not only deliver value for their members, but create new revenue streams and lending opportunities."
---
About Autobooks
Autobooks is a financial technology startup located in Troy Michigan that produces payment and accounting software which integrates into online banking platforms. The product allows financial institutions such as banks and credit unions to add a new level of service to their small business clients, and continue to compete in a rapidly changing market. http://www.autobooks.co
About Draper Triangle
Draper Triangle is an early stage venture capital firm that partners with the Midwest's most extraordinary entrepreneurs who set out to change the world. Founded in 1999, Draper Triangle has invested in many of the region's most successful startups. DTVC works with early stage companies to create iconic and disruptive businesses in emerging markets. Draper Triangle is a proud member of the Draper Venture Network, a robust venture collective bringing together experienced investors and innovative entrepreneurs from around the globe. http://www.drapertriangle.com
About Baird Capital
Baird Capital makes venture capital, growth equity and private equity investments in strategically targeted sectors around the world through offices in Chicago, San Francisco, London, and Shanghai. Baird Capital's venture capital team invests in early and growth stage companies in the Healthcare and Technology & Services sectors. Having invested in more than 290 companies over its history, Baird Capital partners with entrepreneurs and, leveraging its executive networks, strives to build exceptional companies. Baird Capital is the direct private investment arm of Robert W. Baird & Co. For more information, please visit http://www.BairdCapital.com.
About Detroit Venture Partners
Detroit Venture Partners (DVP), http://www.detroitventurepartners.com, is a venture capital firm that invests in seed and early-stage technology companies with a strong emphasis on Detroit-based startups. In addition to capital, DVP provides hands-on coaching, mentorship, support, and resources to help drive growth and success. Founded in 2010 and led by Dan Gilbert and Brian Hermelin, the firm aims to create jobs, urban density, and hope by backing the next generation of Detroit entrepreneurs.
About Invest Michigan
Invest Michigan is a Michigan nonprofit corporation that provides assistance and finances early-stage technology-based companies as well as helping transfer technology from universities at the earliest stages into commercial markets. Invest Michigan is funded by the State of Michigan through the Michigan Strategic Fund. http://www.investmichiganfund.com