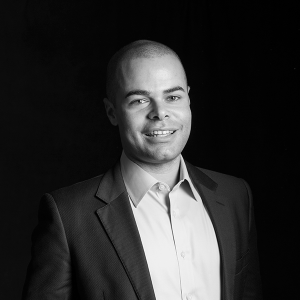 For Adrian Ohmer, the 2015 MVCA Up-and-Coming Investor of the Year, making an impact on the venture community in the Great Lakes Region has been a priority, and it's a task he's dedicated himself to with enthusiasm since he joined the Michigan entrepreneurial community. As a principal at Detroit Innovate, he conducts company sourcing and evaluation, having led four deals for First Step Fund and Detroit Innovate Fund in the last two years. He has also used his position to mentor young companies by working closely with local accelerator programs, including those at TechStars Mobility and Desai Accelerator.
Ohmer has built relationships with organizations both inside and outside the Great Lakes Region, to help foster entrepreneurial growth and talent retention here.  He co-founded the Venture Lab at the University of Michigan, to help bring law students interested in venture capital into the ecosystem for internships and mentoring.  He successfully lured PowerMoves, a national pitch competition focused on minority entrepreneurs, to Detroit; the April 2015 event saw $120,000 in prizes awarded to minority-led startups, most from Michigan.  "Power Moves Detroit attracted some of the highest quality startups we've seen in any competition in recent memory. I see him as a true thought leader in the financial technology sector and someone that I look to for thoughts on deals nationally in the space. He's a true up-and-comer in all aspects of our venture community–a real star," said Adrian Fortino, partner at Mercury Fund.
Ohmer has also partnered with his peers to ensure young venture professionals in Michigan can connect and grow their network efficiently.   The "NextGen Michigan" young professionals group, which Ohmer helped established in coordination with the MVCA and RPM's Josh Lin, brings the next generation of venture and startup professionals across the state together for networking events and education.  "The number of venture capital professionals living, working and investing in Michigan has doubled in the past five years, and Adrian's leadership in supporting and connecting young venture professionals to our entrepreneurial community has been invaluable," said Emily Heintz, associate director of MVCA.
Ensuring that the Great Lakes Region is a place where entrepreneurs, students and young venture capital professionals can launch and sustain a rewarding career is critical to the continued health and success of our entrepreneurial community.  Ohmer is the embodiment of the maxim "be the community you want to have" and his accomplishments in building the venture community we all want in the Great Lakes Region make him one to watch in the future.
Watch Adrian's great acceptance speech (high res photos to come!):