By Emily Heintz, Associate Director, MVCA
Maureen and I just returned from San Francisco, where we were in town for NVCA's VentureScape conference, an annual meeting of the nation's venture capital community. The National Venture Capital Association (NVCA) has been a valuable partner to us in spreading the story of Michigan entrepreneurial and investment success to a much broader audience. This conference always gathers an impressive roster of speakers, and this year was no exception: the CEOs of the San Francisco 49ers and Giants and mega-entrepreneur Jennifer Lopez joined lots of VCs and founders on stage to share insights. However, the biggest superstar in our eyes was Michigan's own Jan Garfinkle of Arboretum Ventures who was elected to the NVCA Board of Directors! Jan will lend a much-needed Michigan and Midwest VC perspective to the national conversation at the NVCA, and we're excited to have an advocate in this important role. A big congratulations to Jan!
Traveling outside the state gives us a great opportunity to discuss how Michigan compares nationally in terms of quantity and quality of venture activity. Nationally, Michigan ranks 21st in venture capital invested, but three factors indicate there may be significant untapped investment opportunity: Research, Talent, and Ideas. Michigan has the highest research spending-to-venture capital investment ratio in the nation; for every $1 invested in venture capital in the state, $149 is invested in research in Michigan. The resulting discoveries and technology can be commercialized to a much greater extent than is happening now, creating a fertile ground for venture capital investment activity. Michigan's near the top compared to the rest of the nation in terms of talent: we have the 7th highest number of PhDs in science and engineering, 13 for every 100,000 Michigan residents. Not only are these PhDs more likely to launch a startup company to commercialize their research, this high proportion of PhDs mean Michigan startups have abundant access to a talent pool that can advise and advance the company's product or service offering. And we are among the leaders in the nation in generating new ideas, as measured by the number of invention patents issued. Those new ideas can be quickly and profitably commercialized as long as there's plenty of investment capital available. Many of our conversations in San Francisco centered on the rapidly growing entrepreneurial and investment landscape environment in Michigan compared with the more stagnant national investment picture. Michigan is definitely on the right track capitalizing on our opportunities in research, talent and ideas, which are resulting in Michigan's increased presence in the national landscape.
A trip to San Francisco provides a great opportunity to for connect Michigan investors with potential co-investors from across the country. Each year during the conference MVCA hosts an investor-only networking reception, sponsored by the Michigan Economic Development Corporation, to connect out of state investors with firms in Michigan. As detailed in our Annual Report, Michigan venture capital professionals estimate that the 129 active venture-backed firms in Michigan will require more than $1.3 billion in follow-on funding in the next few years. Venture capital firms in Michigan have earmarked an estimated $108 million for follow-on funding, so the additional money has to come from both new funds raised by our firms as well as out-of-state investment into Michigan. Over 30 investors gathered at the MVCA networking reception in San Francisco to build stronger relationships with potential co-investors who are interested in investing in Michigan startups.
In addition to the conference and our networking reception, we also had a few really great meetings. Maureen and I caught up with delightful former Michigan Governor Jennifer Granholm to talk about the growth of our state's entrepreneurial economy since she left office. She has great legislative perspective and we had a very productive and interesting discussion on MVCA's advocacy activities. We also met with other state venture capital associations to talk best practices and share success stories. Spoiler alert: Michigan has one of the nation's most admired state venture associations!
Thank you to our amazing, dynamic membership and staff for making MVCA a very special organization and letting us proudly represent MVCA across the country!
---
About Emily Heintz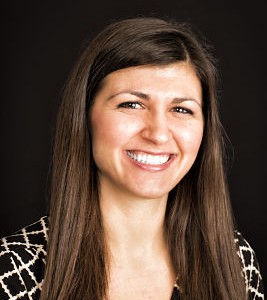 With a background in economic development, capital markets, and finance, Emily Heintz brings technical and practical expertise to her role as Associate Director of the Michigan Venture Capital Association. Heintz supports Michigan's vibrant venture capital community by developing the MVCA Research Report, planning educational and networking events, managing talent programs, and advocating for Michigan's entrepreneurial community.
Prior to joining the MVCA in 2013, Heintz was a Capital Markets Associate at the Michigan Economic Development Corporation. She designed, implemented and managed the MEDC's capital markets programs, including the 21st Century Investment Fund, Accelerator Funds, Venture Development Fund, EB-5 Immigrant Investor Program, Urban Investment Program, and direct investments made in venture capital firms around the state. Earlier, Heintz was the Accounting Manager at Ann Arbor SPARK, a non-profit economic development organization aimed at establishing the Ann Arbor region as a destination for business expansion, retention, and location by identifying and meeting the needs of business at every stage. She also worked as an auditor with Plante Moran, the 13th largest certified public accounting and business advisory firm in the United States offering audit, accounting, tax and business advisory consulting services.
Heintz holds both a Bachelors of Arts and Masters of Science in Accounting from the Michigan State University