Established and emerging supply chain technologies
in Ann Arbor collaborate to further field

ANN ARBOR, Mich. (September 9, 2016) – LLamasoft,  a global leader in supply chain optimization and software solutions is happy to welcome Local Orbit, the supply chain platform for the new food economy, into its new office space in the McKinley Towne Centre building at 201 South Division Street in downtown Ann Arbor.
"We're incredibly fortunate to find space that can accommodate our growing team, with facilities and a location that are typically out of reach for start-ups as they move beyond co-working spaces. Our team is happy and productive, and it's a boon for recruiting," said Local Orbit Founder and CEO Erika Block. "But even more important, being co-located with an established company that's working on supply chain challenges provides opportunities for informal interaction between our teams and access to the knowledge and mentorship of people that have gone down a similar path. It's a tremendous resource that we're starting to tap into after only a few weeks."
Based in Ann Arbor since opening its doors in 1998, LLamasoft offers leading supply chain technology to many of the world's largest and most complex organizations. Since moving its global headquarters to McKinley Towne Center in June, the company is working to foster collaboration and innovation with other technologies with Ann Arbor roots.
"LLamasoft knows that in order to continue to provide leading technology, we need to keep up with developing trends and the business challenges facing the supply chain industry today," said President and CEO of LLamasoft Don Hicks. "By working with Local Orbit we look to foster engagement between our teams to continue to shine a light on innovative food supply chains and emerging disruptive technologies."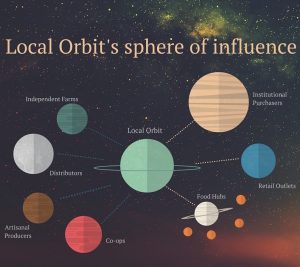 Local Orbit will host a workshop for attendees from around the country in LLamasoft's event space November 7-9 focused on the topic, "Transparency, Collaboration and Shared Value in Local Food Economies." LLamasoft Executive Vice President, Toby Brzoznowski, will participate a discussion about the role of supply chain data in growing local food systems.
About LLamasoft, Inc.
LLamasoft supply chain design software helps organizations worldwide design and improve their supply chain operations. LLamasoft solutions enable companies across a wide range of industries to model, optimize and simulate their supply chain network, leading to major improvements in cost, service, sustainability and risk mitigation. Headquartered in Ann Arbor, Michigan, LLamasoft is a leader in supply chain excellence and innovation, advancing technology focused on continuous improvement of enterprise supply chains for the world's largest organizations. Existing Michigan-based venture investors include MVCA members, Invest Detroit, Wakestream and Grand Angels.
Media Contact
LLamasoft, Inc.
Ginger Stegmier
[email protected]
734.669.3215
About Local Orbit
Local Orbit is the supply chain platform for a new, connected food economy. Local Orbit enables high volume foodservice buyers to efficiently purchase from local suppliers while maintaining complete supply chain transparency. By enabling efficient, decentralized supply chains that can meet consumer demand for food produced closer to where we live, Local Orbit helps people build stronger local food economies and healthier communities. To learn more visit www.localorbit.com.