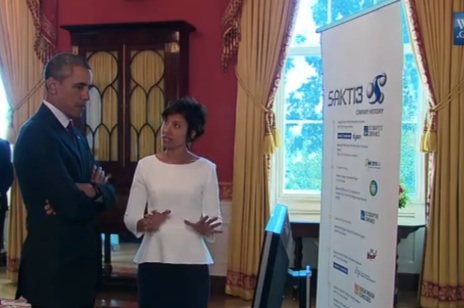 Michigan-based battery innovator Sakti3, Inc. (www.sakti3.com), a portfolio company of private equity investor Beringea, will participate in the inaugural White House Demo Day on Tuesday, August 4, 2015. The event will be hosted by President Barack Obama at the White House, and will celebrate the important role entrepreneurship plays in America's economy. Unlike a private-sector Demo Day, where entrepreneurs and startups pitch their ideas to funders, these innovators from around the country will "demo" their individual stories.
The White House created Demo Day to showcase the need to give more entrepreneurs from all walks of life a chance to turn their ideas into indispensable products and services. The event will be held in the White House East Room, and webcast live at www.whitehouse.gov/live.
About Sakti3
Sakti3 is commercializing a breakthrough, high performance, low cost and intrinsically safe solid state battery technology, with double the energy density of today's technology. The materials, device designs and manufacturing methodologies were selected and optimized using advanced computational modeling, and lockstep, small-scale prototyping. The company is now scaling its prototypes in pilot production.
Sakti3 has been recognized for its innovative approaches with several technical and business awards, including recognition in MIT's Technology Review as one the World's 50 Smartest Companies (2015), the World's 50 Most Innovative Companies (2012) and the winner of the World's Top Ten in the Energy Category (2011), and as an Energy Innovation Pioneer by CERAWEEK (2014). Sakti3 has also been honored for its work practices, as one of Metropolitan Detroit's 2015 101 Best And Brightest Companies To Work For® (2015) and a winner of an Award for Workplace Excellence (2015).
About Beringea
Beringea, LLC provides equity and/or mezzanine debt to small- and-middle market companies. The Firm, which includes Michigan-based Beringea, LLC and its London, UK office Beringea LLP, invests in portfolio companies operating in a range of sectors, including health care, information technology, advanced manufacturing, media and specialized consumer products.
With flexible capital solutions, extensive investing experience and offices in the U.S. and UK, Beringea's team offers its portfolio companies the resources to grow their businesses and create value for stakeholders. For more information, visit www.beringea.com.
In the United States of America, Beringea operates as an SEC-registered investment advisor, Beringea, LLC. In the United Kingdom, this document is issued by Beringea LLP, a firm authorized and regulated by the Financial Conduct Authority. Beringea LLP is a limited liability partnership registered in England and Wales with company number OC342919, and its registered office is at 39 Earlham Street, London, WC2H 9LT, UK. This document is intended solely to provide information regarding Beringea's potential financing capabilities for prospective portfolio companies.