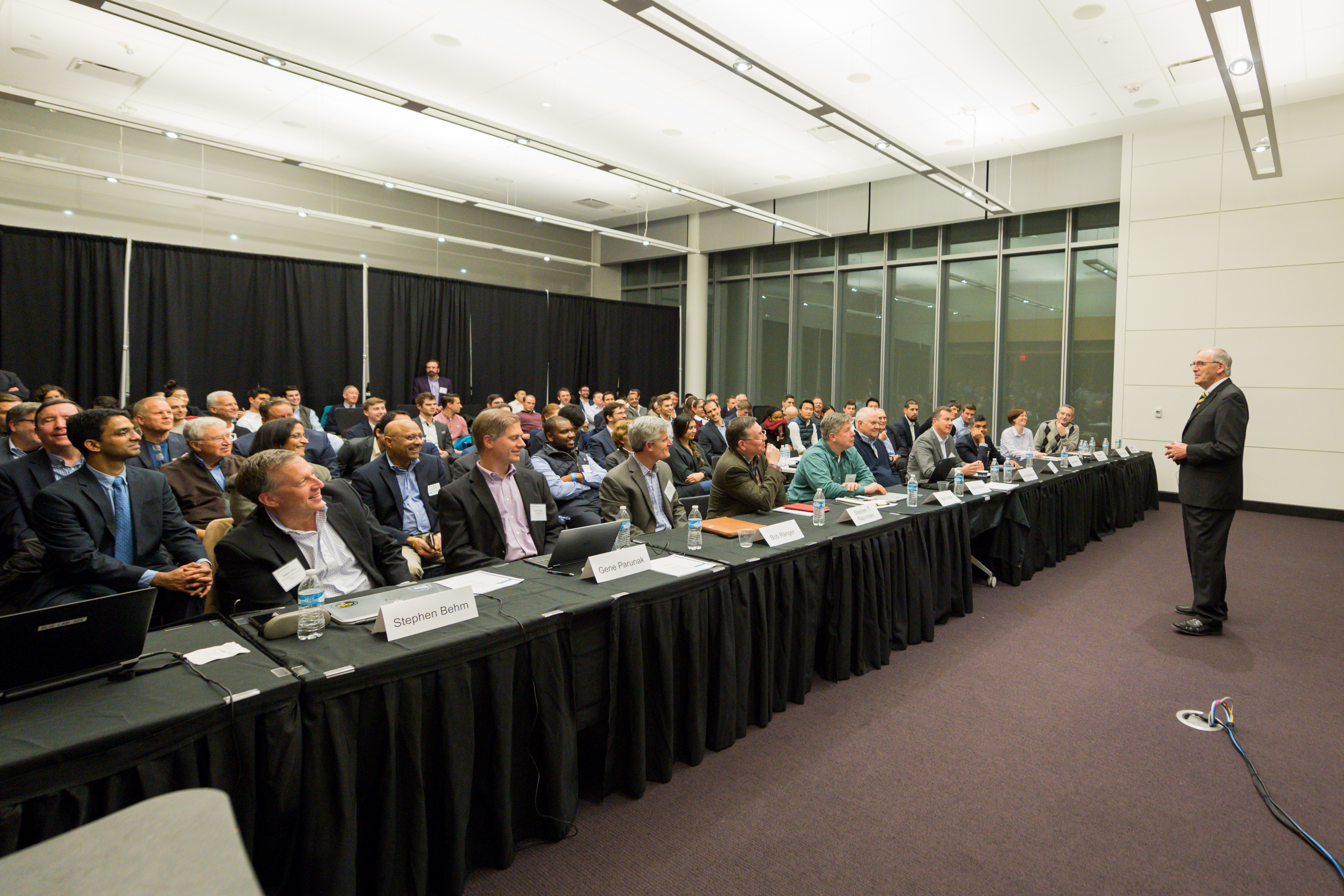 Students from three universities teamed up with Michigan-based startups to stoke venture capitalists' interest in taking stakes in new ventures with promising technological and life-science innovations during the 2019 Financing Technology Commercialization Pitch Competition. The event took place at Michigan Ross on Dec. 11.
A record 100 students, divided into 20 teams, presented high-level investment pitches to a judge's panel in an effort to procure late-seed or series A funding for the entrepreneurial companies they represented. The annual event served as the capstone for U-M Finance Professor David J. Brophy's Financing Research Commercialization practicum.
Members of the Michigan Venture Capital Association, as well as the Ann Arbor and Detroit business, entrepreneurial and investment communities, volunteered as mentors and judges for the competition. Students and startups from Western Michigan University and Michigan Technological University were invited to participate in the event alongside their counterparts from U-M.
"These are real companies, in which the 'butter and egg money' is at risk for the founders in this emerging stage of company life," Professor Brophy explained. "This year we have one of the best groups of startups, many of which have come through the U-M's Tech Transfer office. We also have a talented group of graduate and undergraduate students who have been working hard. The bottom line is that we're trying to help these Michigan-based startups gain traction and become successful."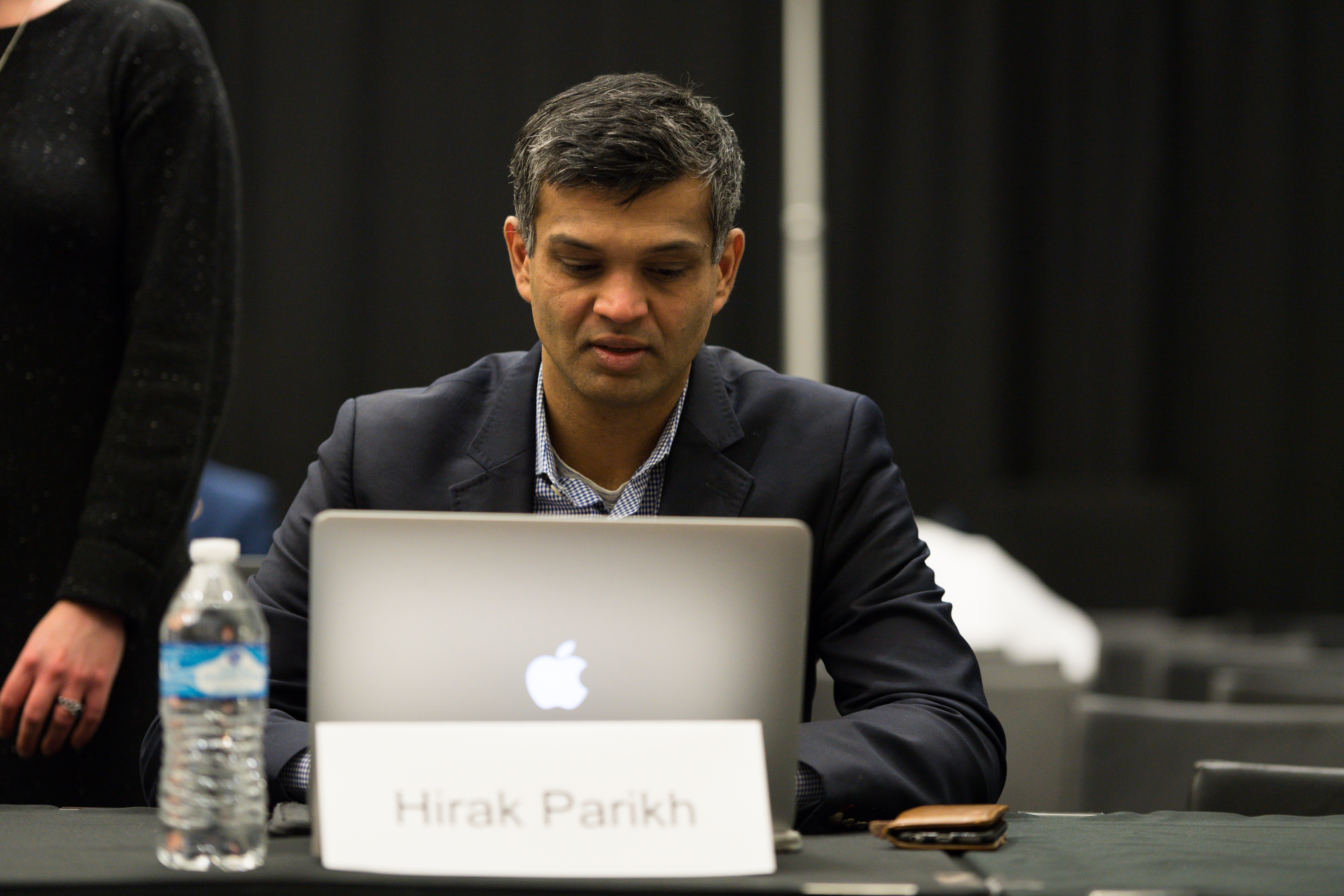 Since the pitch competition began 15 years ago, 75 startups have procured their targeted funding within several months after the event. More than 1,300 students and 225 companies have gone through the practicum to become part of the Michigan Ross Center for Venture Capital and Private Equity Finance "Next Mile to Funding" venture-capital network.
During the fall, each of the 20 student teams was paired with a different Michigan-based startup and met regularly with the founder, CEO and/or management team to identify pain points and formulate strategies to accelerate business growth and development. A number of the startups were spun out of universities, including U-M, to commercialize new technologies and life-science discoveries.
To prepare for the competition, the student teams were required to create and present comprehensive pitch decks to venture-capital investors detailing the company's product or service, business model, monetization strategy, timeline and milestones, management team, financing needs and exit strategy. Mentors provided coaching and asked tough questions at every step along the way.
Mark Reynolds, a partner in Ann Arbor-based GrowBiz.org, insisted the pitch competition is "better than Shark Tank," because the students dive in and dissect a company in an effort shore up weaknesses and build on strengths.
"Each week, the students tackle another piece of the puzzle, whether it's the business plan, financial model or executive summary," said Reynolds, who has been a mentor and served as a judge this year. "They do a 'canvas' and lay out all the pieces."
The pitch competition really puts students on the spot, insisted Frank Urban, director of venture creation–life sciences at Michigan State University Spartan Innovations, who was one of the judges. "If they haven't done their homework on the company and its technology, the judges will pick up on that," he observed. "A lot of investors already have inroads into industry and know what they want. A company might a great technology, but that doesn't mean it will sell as a commercial product."
Students Deep-Dive into Startups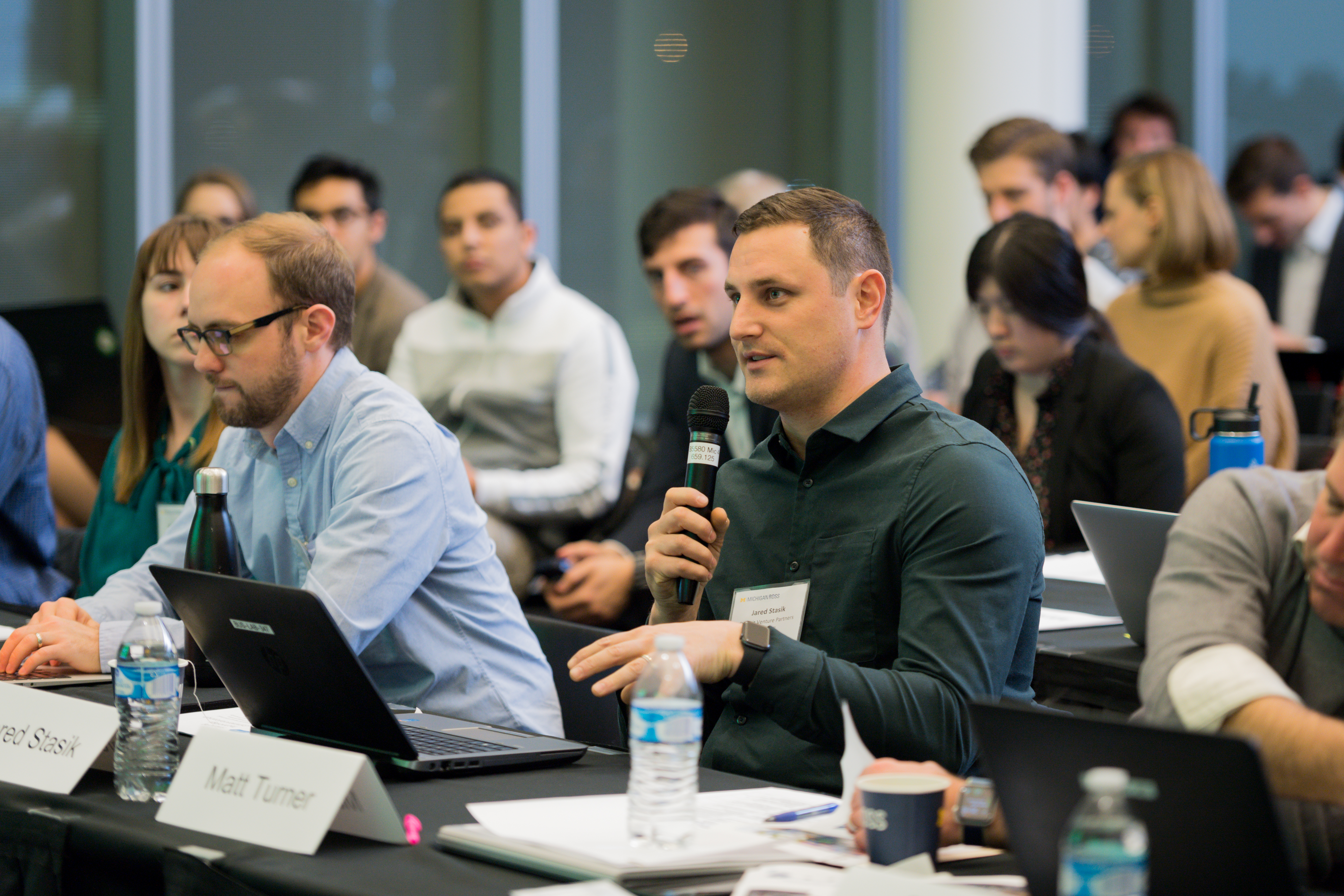 Shawn Tan, a first-year MBA student, and Jack Scanlan, a junior majoring in economics, were part of the team seeking to raise $3 million for MoxyTech, a cloud-based pain-management company. Both students said they benefited from the pitch competition.
"I'm putting what I learned into practice with real clients and real investors," Tan explained. "Working with the team as a consulting group has been very valuable."
Scanlan said creating the fundraising pitch for an entrepreneur's actual company was far different than participating in classroom projects. "Everything is constantly changing in an entrepreneurial company," he commented. "You have to adapt the business model and revenue accordingly."
Team members Daksh Patel, Alexandra Farmer and Kenton Sheridan worked to develop a well-researched fundraising presentation for ModuGo, a digital marketplace for the sale, lease and shipment of modular buildings and shipping containers.
The pitch competition's biggest challenge, according to Patel, a BBA senior, was understanding what investors care about when there are high stakes and critical funding hanging in the balance, and being able to convey the key points of a presentation in 10 minutes.
"My previous work experience is in venture capital, so I wanted to learn what goes into building a company and what it's like to be on the other side of the table," said Farmer, a senior majoring in economics.
"Studying economics is individual work, but in this practicum, there was a lot of group work," observed Sheridan, a junior with a major in economics. He learned how to balance his own strengths with those of his teammates as well as how to leverage their mentor's background.
Tony DeRosa, a part-time MBA student who was the presenter for NewHaptics, said his team's biggest challenge was helping the very early-stage startup decide what product to bring to market and how best to position it. NewHaptics is developing a refreshable full-page tactile display that will enable a true digital experience for the blind. "As a business student, you have to dig deep enough into the company to be able to explain its technology to investors," DeRosa noted.
Startup Founders Reap Benefits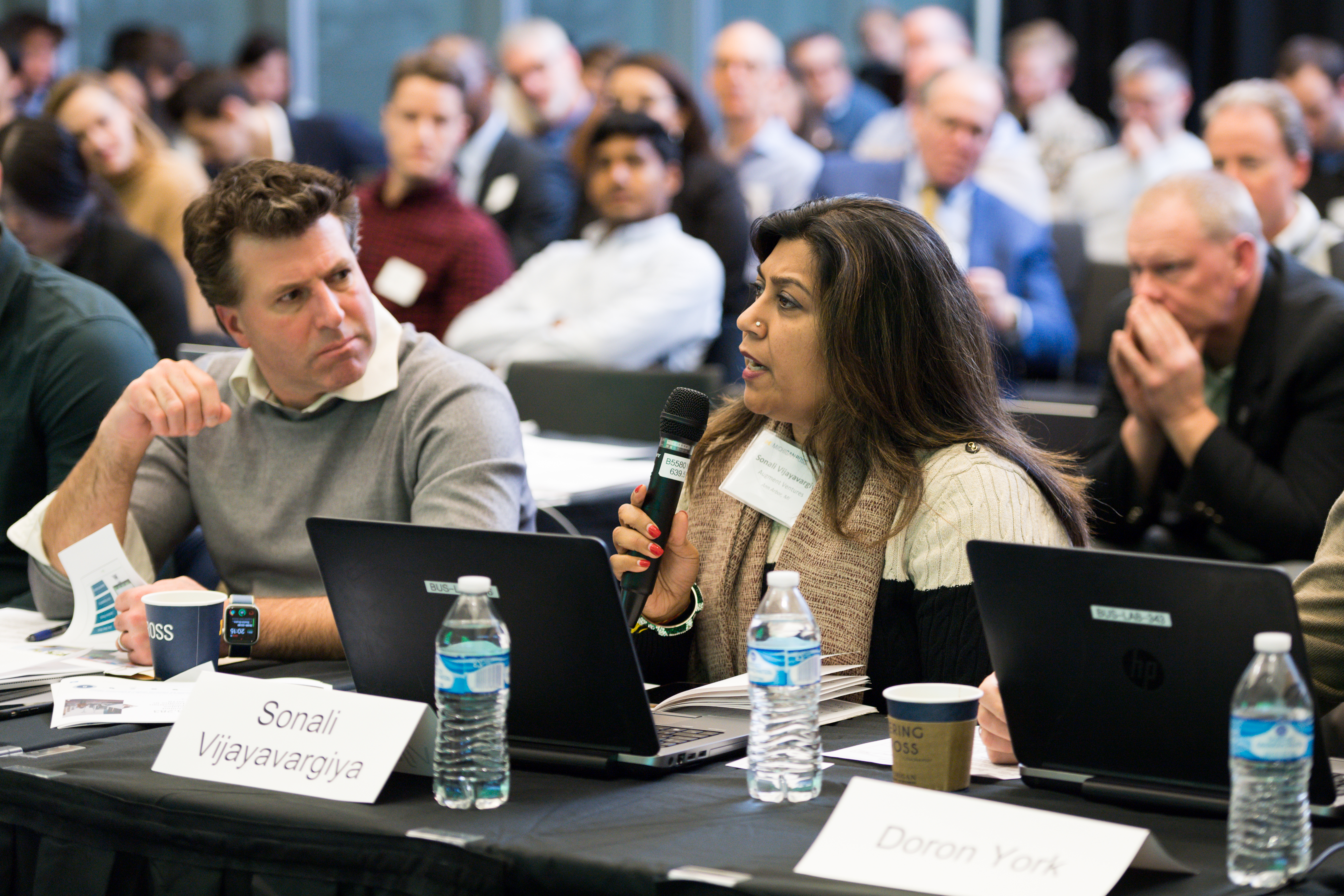 "For a fledgling startup founder, Professor Brophy's program is a godsend, the best of its kind," remarked Bill Vuillemot, DDS, the founder and CEO of SmileBOND Systems. "The students were totally unabashed about asking very difficult questions and zeroing in on our pain points. What they've done is validate our business model and ideas as well as augment and amplify them."
Angie Pope and Reuben Levinsohn, the co-founders of Lingco Language Labs, said a group of Western Michigan University students partnered with them to develop an investor presentation for the pitch competition. Lingco is making innovative tools for language courses.
"The students helped us get better at telling our broad story and challenged us on some of our strategies," said Pope, a 2001 U-M graduate. "We hope this event will generate interest among angel and VC groups who will help us fill out our $500,000 seed round."
Lingco's participation in the 2019 pitch competition provided good exposure and a possible toehold for introducing its products into U-M, according to Levinsohn. "This was a valuable opportunity to pitch in front of the judges, who are investors, and to see what questions they asked," he added.
Steven Senczyszyn, the co-founder of NanoSound, drove more than nine hours and 500 miles through snow and ice from Michigan Technological University in Houghton to Ann Arbor just to appear at the Dec. 11 pitch competition. NanoSound, which is commercializing a high-tech solution for reducing the noise generated by HVAC systems, teamed up with Michigan Tech students to create the company's pitch for $200,000 in seed-round funding.
"This is the first time I've pitched, and I was very nervous, especially knowing high-profile investors were on the judge's panel," admitted Senczyszyn, who is a mechanical engineer. However, he said, he learned a great deal from the students and looked forward to receiving constructive feedback from the panel.
Michigan's Entrepreneurial Ecosystem Advances
            The 2019 Financing Technology Commercialization Pitch Competition not only prepared students for future careers as entrepreneurs or investors, but also helped to advance the entrepreneurial ecosystem in the state of Michigan.
"By pitching to the judges, the students got their first idea of how investors perceive the company and evaluate the business opportunity, as well as whether it is fundable," observed Sonali Vijayavargiya, the founder of Augment Ventures.
Janet Wyllie, director of engagement at Grand Angels, said she evaluated the pitches on the basis of whether the student teams told their company's story in clear terms and presented financial results and forecasts that made sense. "We'd invest in one of these startups if it seemed to be a good fit for Grand Angels," she added.
Stephen Behm, who is part of the innovation group at Bon Secours Mercy Health, said he looked beyond the technology developed by the startups to consider other factors such as reimbursement, integration, cost reduction and patient outcomes. "We could be a strategic partner, acquirer or end-user," he explained.
Stephen Rapundalo, the president and CEO at the Michigan Biosciences Industry Association (MichBio), suggested that additional data from scientific studies would have helped the judges gauge the efficacy of innovative technologies and their phase in the development process. "Those teams that presented well brought value and added validity to the commercialization of the technologies," he added.
Skip Simms, senior vice president at Ann Arbor SPARK, said he was pleased overall by the students' pitches. "I thought the presentations were good, given the teams had to cram a lot of information into a short 10-minute period," he remarked.