ANN ARBOR, Michigan (September 8, 2015)—The Michigan Venture Capital Association (MVCA) recently launched a new online tool aimed at helping investors and entrepreneurs better navigate Michigan's entrepreneurial community. Available on its website (www.michiganvca.org), the interactive, searchable Michigan Entrepreneurial & Investment Landscape Map allows users to sort by geographic location, industry sector, or organization type.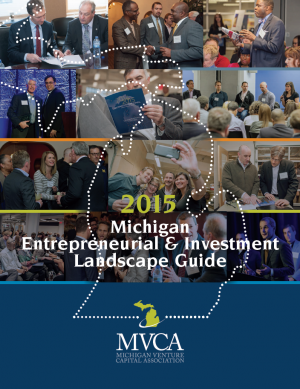 The Landscape Map complements MVCA's recently released Michigan Entrepreneurial & Investment Landscape Guide, a guide profiling all the funding and professional resources available in Michigan.  Profiles of investor organizations list funding amounts and investment criteria, contact information, and firm highlights; entrepreneurial resource and service provider profiles detail services provided and audiences/geographies served.  The Landscape Guide is also available in printed form and will be available at all MVCA events, including the 2015 MVCA Annual Awards Dinner on November 30, 2015.
"In the entrepreneurial and investment world, a lot of exciting things happen in Michigan every day, and its MVCA's role to track and promote that activity," said Maureen Miller Brosnan, MVCA executive director. "In recent months, we've seen Arboretum Ventures embark on raising the largest fund in the history of the state, Denver-based Three Leaf Ventures opening an Ann Arbor office, startup Nutshell attracting a multi-million dollar investment, ProNAi Therapeutics issuing an IPO, and Endeavor opening its second U.S. location in Detroit. The interactive MVCA Landscape Map and Landscape Guide are the only online tools devoted to providing the most current information on entrepreneurial and investment activity in Michigan."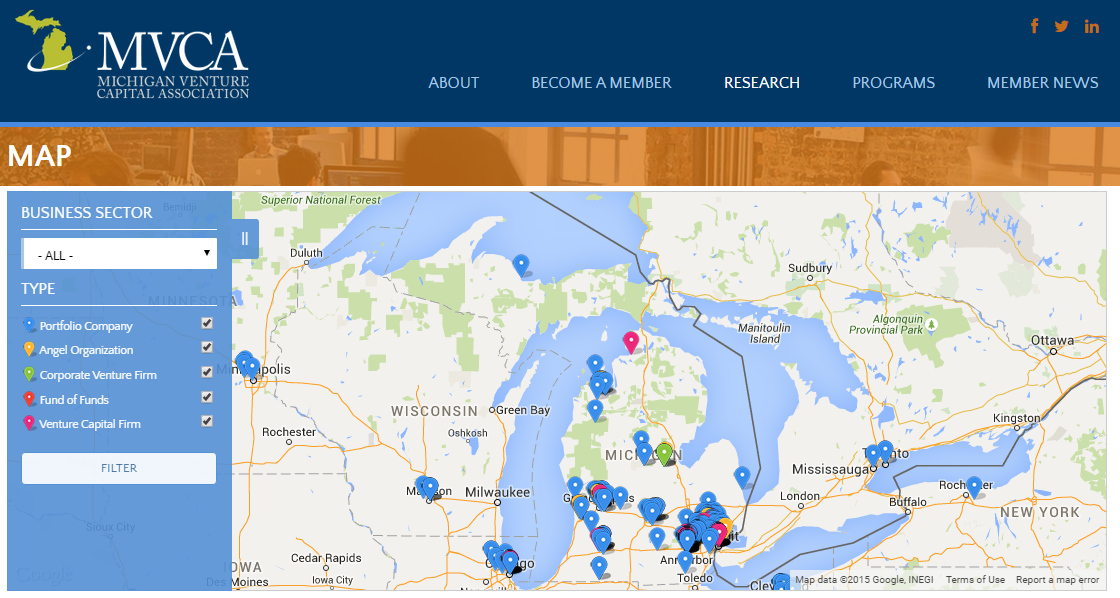 "These new tools are invaluable for those hoping to make connections with Michigan investors, entrepreneurs, and support organizations," she added. "Whether our visitor is a high tech company looking for investment, an out of state investor visiting Michigan and wondering who to meet with while they are in town, or an MVCA member looking for resources for a startup company, these interactive tools will simplify the search and ensure everyone in the country has access to our abundant and varied network of Michigan entrepreneurial resources."
Michigan is a premier Midwest and national venture capital center of excellence, with 129 venture-backed companies in the state.  Michigan's 37 venture firms actively support the state's fastest growing young companies, with local investors involved in 97% of all startup funding rounds in 2014.
---
About The Michigan Venture Capital Association
The Michigan Venture Capital Association (MVCA) is a non-profit trade organization designed to bring together venture capital industry experts in the state of Michigan. The organization's goal is to grow and sustain a vibrant venture capital community in Michigan.  MVCA membership includes private and corporate venture capital funds, angel investors, universities and economic development participants, and service providers. More than 400 individuals are members of MVCA, representing over 100 organizations across the nation. www.MichiganVCA.org.