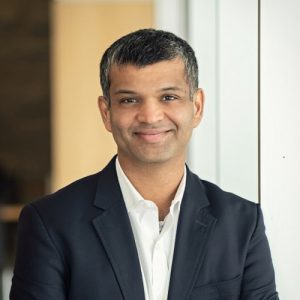 Hirak Parikh has been a long-standing member of Michigan's entrepreneurial and investment community as an entrepreneur and investor. Since 2016, Hirak has been the fund manager of University of Michigan's Monroe-Brown Seed Fund, an early stage fund that makes investments in life-science spinouts from the University of Michigan. Now, he's embarking on a new role as a venture partner at Augment Ventures!
The Venture Fellows Program, supported by Michigan Economic Development Corporation (MEDC), is designed to increase the number of venture professionals in Michigan to accelerate the fundraising and deployment of capital into early-stage companies.
---
How did you find out about the Fellows program?
I have known about this program from attending the MVCA events over the last couple of years and having interacted with former MVCA fellows. It's an excellent program to nurture and develop the next generation of venture capital professionals in Michigan and I'm thrilled to be part of it.
What are you most looking forward to about being a Fellow?
I have greatly enjoyed the experience of running an early-stage life-science venture fund out of the University of Michigan for the last three years and I was looking for opportunities to add to my learning and growth. Unlike other fields, there is no fixed play-book or cookbook approach to venture capital and the only way to grow is to 'learn-by-doing'. With the aid of this fellowship, I'd be able to actively participate in the operations of an early-stage venture firm. I'm also very excited to be able to look at deals across the Midwest.
What do you hope to be doing in 10 years?
I hope that in 10 years, I'm still in venture capital and around to see many of our early investments grow and be able to create the wide-ranging impact we envision today. I honestly believe that in 10 years Michigan will claim it's rightful place as the center of innovation. We already see some early signs and I'm glad to be in early on this rising tide.
What attracts you to the venture capital industry in Michigan?
Having interacted closely with many founders and investors, I believe that there is lots of great opportunity in our local companies. Our founders are innovative, smart, passionate and at the same time very nice too.  The local VC community has been very collegial right from my first foray three years ago and I'm honored to be part of it.
What's your dream deal (the company you wish YOU had spotted first!)?
During the 'gold rush',  I would have loved to have the vision to be an early investor in Levi Strauss when he was selling jeans to prospectors in CA. The real money was made in the supplies and not the gold. It would be nice to have such a visionary superpower to know where the real opportunity lies in all the chaos that is at the start of a new market trend.
Learn more about the Venture Fellows Program supported by the Michigan Economic Development Corporation.