In anticipation of the upcoming North American International Auto Show (NAIAS), The State of Michigan's PlanetM program and NAIAS are proud to announce the new platform of matchmaking to take place at the show for startup companies looking to meet and connect with corporate OEM, tier ones, and venture capital firms. The deadline to submit your company information is Friday, December 8.
---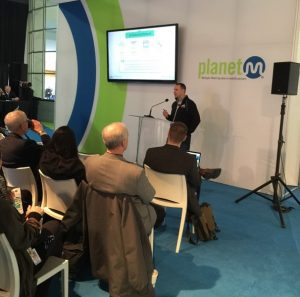 Last week, PlanetM and NAIAS announced the launch of their new matchmaking platform for startup companies looking to connect with various partners at NAIAS. With the collection of information on your company and capabilities, the platform will qualify, match and schedule meetings with those companies you're interested in meeting with at the event. These coordinated meetings will be held at NAIAS during NAIAS Preview Week, Sunday, January 14 – Thursday, January 18 at Cobo Center.
To be considered for the Match Meetings, input your company information using the application link below. The information you provide will be used to make those connections with Auto Show exhibitors at the show. Please complete the information as thoroughly as possible. In the link, you'll be asked to rank your interest level with a few of the automotive and tier one companies at the show.
Following submission of your information, each corporation or venture capital firm will have access to your answers and will select meetings based on your capabilities and their current project requirements.


How to Apply
 Deadline:
Application link:
Notification date if you are selected for meetings:
After Thursday, December 14, 2017
For additional information, please contact:
Bobby Chasnis
Development & Operations Manager, Pure Michigan Business Connect
Email: [email protected]
---
About PlanetM
PlanetM represents Michigan's unique and vast ecosystem, connecting resources and opportunities for its consortium of members. Made up of private industry, government and institutions of higher learning, partners in PlanetM share the common goal of leading the development of smart solutions that will change the way people and goods are transported across all modes of transportation. To learn more about how Michigan is leading the transportation revolution or to become a member, visit PlanetM.
About Michigan Economic Development Corporation (MEDC)
The Michigan Economic Development Corporation is the state's marketing arm and lead advocate for business development, job awareness and community and talent development with the focus on growing Michigan's economy. For more information on the MEDC and our initiatives, visit www.MichiganBusiness.org. For Pure Michigan® tourism information, your trip begins at www.michigan.org. Visit Pure Michigan Talent Connect at www.mitalent.org for more information on Michigan's online marketplace for connecting job seekers and employers.
About NAIAS
Now in its 30th year as an international event, the NAIAS is among the most prestigious auto shows in the world, providing unparalleled access to the automotive products, technologies, people and ideas that matter most – up close and in one place. Administered by executive director Rod Alberts, the NAIAS is one of the largest media events in North America, and the only auto show in the United States to earn an annual distinguished sanction of the Organisation Internationale des Constructeurs d'Automobiles, the Paris-based alliance of automotive trade associations and manufacturers from around the world. For more information, visit naias.com.