The Renaissance Venture Capital Fund (RVCF), Michigan's innovative venture capital fund-of-funds, today announced the prestigious recognition of its founder and CEO in the area of entrepreneurship, as well as the addition of two new team members.
Ernst & Young has named RVCF Chief Executive Officer Chris Rizik as a finalist for its Entrepreneur of the Year 2016 Award in the Michigan and Northwest Ohio Region.  The award, which honors leaders for their extraordinary success and commitment, will be announced at a special gala event on June 23 at the Detroit Institute of the Arts.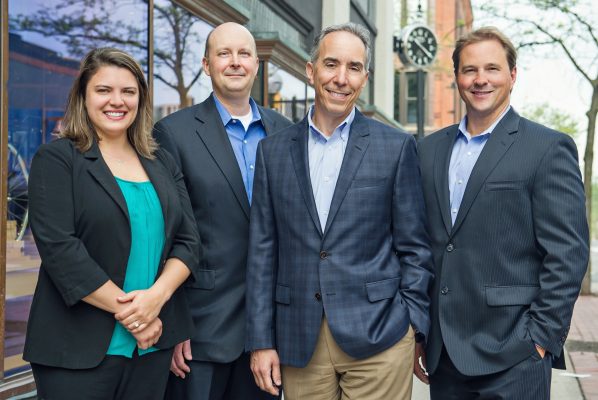 "While I am humbled by this honor, this is truly recognition of the unique model created by RVCF in Michigan," Rizik said. "Our innovative structure and strategies are now receiving national attention and are being replicated elsewhere in the United States."
As the first and only truly global award of its kind, Entrepreneur Of The Year celebrates those who are building and leading successful, growing and dynamic businesses, recognizing them through regional, national and global awards programs in more than 145 cities in more than 60 countries.
RVCF also celebrates another milestone as it grows to add two new staff members. Vince Nystrom now serves as the firm's Vice President of Business Development, while Jessica Scott has joined the RVCF team as Chief Administrative Officer.
Nystrom will expand upon RVCF's success in connecting innovative young companies with Michigan's most important major businesses, providing benefit to both communities and increasing financial performance. He came to RVCF from the Michigan Economic Development Corporation (MEDC), where he led in-state business development initiatives, including the Pure Michigan Business Connect program. He also helped facilitate over $3 billion in contracts between major corporations and Michigan companies.
Scott will lead office operations, as well as support RVCF's business development efforts. She previously served as an analyst for the IT Talent Systems Department of the Workforce Development Agency (WDA), where she managed the Michigan Virtual Career Fair events and supported the social media, marketing and outreach for Pure Michigan Talent Connect.
---

About the Renaissance Venture Capital Fund:
The Renaissance Venture Capital Fund is a fund of funds that supports the growth of venture capital in Michigan while serving as a bridge between Michigan's emerging innovation company community and its strong industrial and commercial base. Formed by Business Leaders for Michigan, the Renaissance Venture Capital Fund boasts as its members many of Michigan's most important organizations.  It has become a national model for strategic, financially successful regional investing.  Through its investment in top tier venture firms that are active in Michigan, as well as its own co-investments in emerging Michigan companies, the Renaissance Venture Capital Fund is helping to drive forward both innovation and growth of emerging companies in the region. And it is again proving that Michigan, with its unique combination of scientific, engineering and business talent, is a great place in which to invest.  http://www.renvcf.com