Two award-w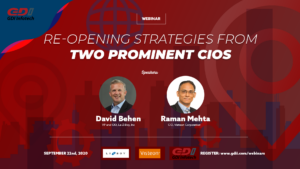 inning CIOs share their plans and strategies on Reopening at GDI Infotech's Webinar Series "Thriving in a Post Pandemic World"
ANN ARBOR, MI, (September 8, 2020) – GDI Infotech (GDI), a leading provider of Talent Matchmaking Solutions and Services is hosting "Thriving In A Post Pandemic World" a new webinar series that's designed to help businesses to effectively use technology to get ahead in the new normal.
Businesses are looking for new, innovative ways to survive and thrive during and after the pandemic era. This series aims to explore the most effective ways that companies can make a difference in their culture and processes through modern digital practices. It will also explore information security and technological innovation that is most relevant to specific business structure.
The next topic of the series will feature two award-winning CIOs: David Behen, VP and CIO of La-Z-Boy, Inc. and Raman Mehta, CIO of Visteon Corp. They will be sharing their pandemic related lessons learned, including reopening strategies for businesses, adopting remote work policies and digital transformation.
"We've developed this series because we want to see companies take advantage of new and existing technology as they adjust to the new dynamics this pandemic has created." said Bhushan Kulkarni, CEO of GDI Infotech. "We work with many CIOs and their lessons learned as well innovative approaches will immensely benefit other CIOs, VP of IT and other folks in IT leadership roles".
"It's very important for everyone to stay informed and prepared for success in the new normal," noted Raman Mehta, Chief Information Officer of Visteon Corporation. "I am sure other companies will benefit by actively participating in the discussion about how to prepare for the future". "We're happy to share our knowledge and experience with the tech community," said David Behen, VP of La-Z-Boy.
To register for this webinar, CLICK HERE.
About GDI Infotech
GDI Infotech is a successful, reputable, and community-minded Talent Matchmaking Company focused on all aspects of software development. Since 1993, GDI has guided countless clients to achieve their unique hiring goals. To learn more about GDI Infotech, visit www.gdii.com