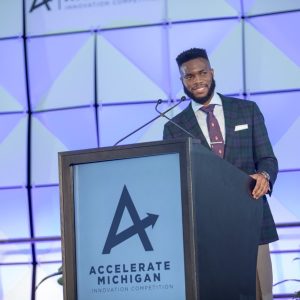 Accelerate Michigan Innovation Competition
Community Impact Award
Meaningful, effective connections between research, talent, and capital, like the ones made at the Accelerate Michigan Innovation Competition, are critical to the growth of Michigan's entrepreneurial economy.  The Community Impact Award nominees are organizations that forge the connections necessary to build a community that is greater than the sum of its parts. 
Accelerate Michigan, a program of Invest Detroit, is the largest gathering of high-growth, high-tech startups and venture investors in the state, and awards $1,000,000 in cash & in-kind prizes through its pitch competition. Accelerate Michigan serves as the premier venue to showcase Michigan innovation and provides early-stage companies with the exposure, funding, and mentorship critical to success. Since 2010, Accelerate Michigan companies have generated more than 1,000 jobs throughout the state and have gone on to raise more than $550 million in capital. Through the strong support of partners, collaborative investors, and a burgeoning tech sector, Accelerate Michigan is recognized as a pillar of the region's startup community.
---