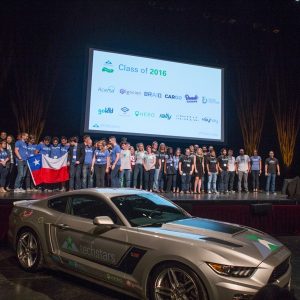 Techstars Mobility
Community Impact Award
Meaningful, effective connections between research, talent and capital, like the ones made by Techstars Mobility, are critical to the growth of Michigan's entrepreneurial economy.  The Community Impact Award nominees are organizations that forge the connections necessary to build a community that is greater than the sum of its parts. 
Techstars Mobility is a mentorship-driven accelerator program part of the global Techstars network. Techstars Mobility invests globally in startups transforming the future of mobility and transportation. Since June 2015, the program has invested $2.6M in 33 startups from six different countries that have raised a total $40M. All 33 startups have come to Detroit for 90-days to accelerate their businesses. Techstars Mobility has engaged over 200 mentors from across the region and facilitated over 5,000 meetings between startups and investors/industry professionals at their office in downtown Detroit. Because of the program, seven companies have opened offices in Detroit, two permanently relocated here, SPLT and Lunar, who now employ 40 individuals in downtown Detroit. Techstars Mobility is on a mission to break down silos around the region and create a greater entrepreneurial community.
---
---