This is part two in a four-part series highlighting the Michigan organizations participating in 2015 Demo Week, a series of presentations where the latest cohorts of companies that have completed an accelerator program present to investors.  Demo Week participant organizations include Coolhouse Labs, Desai Accelerator, Techstars Mobility, and Detroit Venture Partners. 

Today, Kelly LaPierre, Managing Director of the Desai Accelerator, talks about her accelerator's connection to the University of Michigan, its inaugural cohort, and her view from the top of Ann Arbor.
---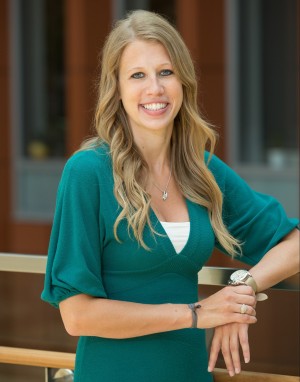 After years working with startup companies, both as a supporter with accelerators like Techstars and Bizdom and as a team member at Grand Circus, I'm thrilled to help our region's newest accelerator get off the ground! The Desai Accelerator is a joint venture between the University of Michigan's Zell Lurie Institute at the Ross School of Business and the Center for Entrepreneurship at the College of Engineering. While the accelerator is supported by the University of Michigan, affiliation to the university is not required. Startups at Desai gain access to talented University of Michigan student interns as well as to mentorship from one of the most expansive alumni networks in the country. We're grateful for the Accelerator's funding and support from the Desai Sethi Family Foundation, the Davidson Foundation, the Wadhams family and the Michigan Economic Development Corporation.
Our inaugural program will run from June 8 to September 4 and the culmination of the program will be a Demo Day in Ann Arbor on September 11 during Demo Week.  Additionally, Coolhouse Labs and Desai Accelerator will be hosting an investor breakfast at 9am on September 11th – location yet to be determined.
The companies selected for the inaugural Desai Accelerator cohort are an exceptional bunch, and we're excited to see how they shape their companies and ideas this summer:
At Desai, we're excited to offer our startups an inspiring working space in a "no constraints" high-energy environment: The Forge by Pillar Technology, a collaborative software studio designed to develop the most innovative software products. This brand new space has breathtaking 360-degree views of Ann Arbor—even for someone who has spent a lot of time in Ann Arbor, I still marvel at how beautiful the city looks from up here!

And check back in September, when our first group of companies present during Demo Week!
---
About Kelly LaPierre
Kelly is the Managing Director for the Desai Accelerator. Kelly has progressive experience working on start-ups, mentoring and coaching. She most recently served as the Director of Marketing and Operations at Detroit start-up Grand Circus, a training institute that elevates the region's tech community and is funded by Dan Gilbert's venture capital firm, Detroit Venture Partners. Over the past few years, Kelly has worked with a variety of startup companies at the Boston-based investment fund TechStars and at the Detroit-based entrepreneurship accelerator Bizdom. Kelly has a BA from the University of Michigan and MBA from Harvard Business School.