This is part three in a four-part series highlighting the Michigan organizations participating in 2015 Demo Week, a series of presentations where the latest cohorts of companies that have completed an accelerator program present to investors.  Demo Week participant organizations include Coolhouse Labs, Desai Accelerator, Techstars Mobility, and Detroit Venture Partners.
Today, Ted Serbinski, Managing Director of Techstars Mobility, talks about his accelerator's inaugural cohort, which becomes the newest group of start ups calling downtown Detroit home this summer.
---
T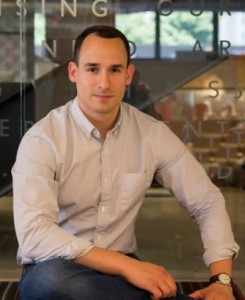 echstars Mobility, driven by Detroit, is the newest program in the global Techstars ecosystem, and I'm looking forward to showcasing our first cohort of participants to the community during Demo Days in September.
Techstars empowers entrepreneurs to bring new technologies to market wherever they choose to build their business. With 18 mentorship-driven accelerator programs worldwide, Techstars supports the world's most promising entrepreneurs with access to over 5,000 founders, mentors investors, and corporate partners, allowing entrepreneurs to accelerate the pace of innovation and do more, faster.
At Techstars Mobility, our goal is to bring next-generation mobility technologies to market. These technologies address the movement of people, goods, and services and the ecosystems in which they move, or move less. Our three-month, mentorship driven program runs this summer in downtown Detroit, from Techstars Detroit's world-class office and facility at Ford Field.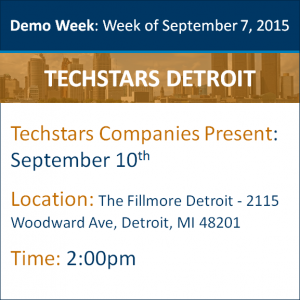 Similar to the Detroit Lions, our neighbors across the atrium, Techstars participants get a full contact startup experience! To help us reach this goal, we've partnered with seven global corporations with deep mobility experience: Ford Motor Company, Magna International, Verizon Telematics, Dana Holding Corporation, Honda R&D Americas, McDonald's, and Munich Reinsurance America.
For this inaugural program, we received hundreds of applications from around the world. These applications came from 42 countries and every continent except Antarctica. We were excited by the diversity of applications and the desire to move to Detroit to build next-generation mobility companies. We saw software, hardware and advanced materials businesses focusing on things like ride sharing, energy, safety, maintenance, logistics and trucking.

This year's class is developing solutions that range from a ride-sharing app, to the AirBnB for car enthusiasts, to web browser technology that works without a data connection. I'm thrilled into introduce you to the newest young companies making their home in Detroit this summer and hope you'll join us when these exciting companies officially introduce themselves to our Michigan VC community during Demo Day on September 10 at The Fillmore Theater:
---
About Ted Serbinski
Ted Serbinski is an entrepreneur and early stage investor fueling the startup renaissance in Detroit. He is the Managing Director of Techstars Mobility, driven by Detroit. Previously he was a Partner and founding team member of Detroit Venture Partners (DVP). While at DVP, Ted co-led investments in nearly two-dozen companies over 3 years, with 13 of those headquartered in Detroit. Before moving to Detroit from San Francisco, Ted was a co-founder and CTO of ParentsClick. With the 4th largest social network and the largest blog network for moms online, Lifetime Television acquired ParentsClick in 2008. Ted graduated from Cornell in 2004, with a B.S. in Computer Engineering. Ted resides in Metro Detroit with his beautiful wife and two sons. Ted blogs on startups, technology, and Detroit at http://tedserbinski.co