by Maureen Brosnan Miller, Executive Director, MVCA
Mackinac Island was showing off this year – the skies were blue, the clouds were few, geraniums and lilacs were in full bloom and the Island was bustling with business and political power players at the Detroit Regional Chamber's annual Mackinac Policy Conference.  The focus for this year's event was entrepreneurship, urban education and investing in the future.  Pillars that set the stage for us to talk with legislators about he 2016 MVCA Research Report and the steady and consistent growth and success of the entrepreneurial and investment community in Michigan.
The Grand Hotel was a little less busy this year, as members of the Michigan House of Representatives remained in Lansing to continue working.  Nonetheless, the chance to participate in some amazing presentations by insightful speakers, network with legislative leaders and visit with industry colleagues, made this year's conference a valuable one for MVCA.
In general, MVCA had a prominent role in the conference.  We were featured in an interview in the Detroit Regional Chamber's Detroiter magazine, which is produced and distributed to all guests on the Island and we sponsored a prize at this year's pitch competition.  More on that later.
Wednesday, June 1
Always information-packed, the first official day of the conference did not disappoint, with speeches by Gov. Rick Snyder; Brian David Johnson, futurist-in-residence for the Center for Science and the Imagination at Arizona State University and former Futurist with Intel Group, who asked the audience to think about an actionable vision for the Michigan's future; Dan Ammann, President of GM, who talked about the future of mobility; Mona Hanna-Attisha, Director of Pediatric Residency at Hurley Medical Center in Flint, who spoke  about the impact of the Flint Water Crisis on Michigan's future; and Mike Duggan, Mayor of Detroit, who gave his annual report card on progress in the city and then called for more forward-thinking action on Detroit Public Schools legislation currently before the legislature.
Wednesday evening was filled with great conversations with policy makers, agenda-setters and movers and shakers at the Annual Muchmore, Harrington, Smalley & Associates (MHSA) Reception at Mary's Bistro   Each year, this event gives MVCA a chance to talk to a wide variety of people interested in what's happening in the venture industry. I had a chance to catch up with MEDC's Steve Arwood and Jennifer Nelson and share some time with MVCA board member Doug Neal and member Paul Brown (Michigan eLab).   An introduction to Erin Schor, of the Michigan Community College Association, led to a great conversation about the future of Michigan's workforce.  Romulus Mayor LeRoy Burchoff and Tim Keyes, Romulus Economic Development Director, shared their insights on what's happening at Willow Run Airport with Michigan's new Mobility Transformation Center.  The event gave me a chance to say some quick hellos to Sen. Ken Horn, Sen. David Knezek, Sen. Mike Kowall, State Budget Director John Roberts and many others.  It was a day of non-stop networking and advocating for MVCA and Michigan's entrepreneurial community that ended with a nightcap at the Pink Pony and then off to bed to rest up for another full day tomorrow.
Thursday, June 2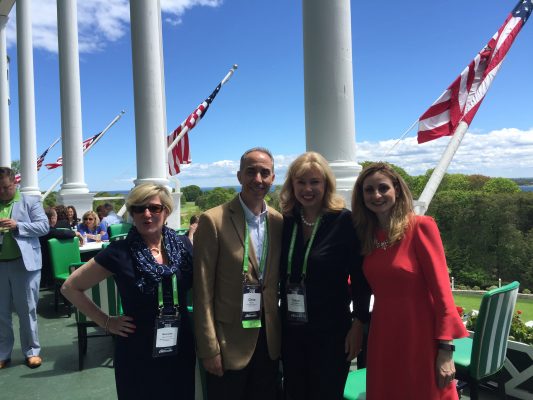 Thanks to the amazing connections of our legislative advocacy team at MHSA, the majority of this day was spent on the porch of the Grand Hotel meeting with legislators.  It is the perfect, relaxed setting to dive deep into an issue at the top of MVCA's legislative agenda –the formation of a NEW Fund-of-Funds in our state!   I met with Sen. Mike Kowall (R-White Lake) then zipped down to the Gatehouse for a chance to thank Sen. Ken Horn (R-Saginaw) for his support of the Michigan Venture Capital and Angel Investment Week designation.   Sen. Ken Horn was happy to continue the discussion about venture capital and angel investors firmly establishing their role in jump-starting and sustaining Michigan's economic recovery.  Lunch was spent parked on a bench having an unexpected but thought-provoking lunch with John Maddox, Director of the Michigan Mobility Transformation Center.  Then it was back to the Grand Porch for a meeting with MEDC's Jeremy Hendges to share legislative updates, followed by a meeting with Sen. Tonya Schuitmaker (R-Lawton) and another with Sen. Margaret O'Brien (R-Kalamazoo).  This was the first time I've had the chance to share the story of Michigan's entrepreneurial and investment community with Sen. O'Brien; I was joined by MVCA member Chris Rizik and we look forward to working with her more in the future.  A major takeaway from our discussion was MVCA's desire to continue to build on the momentum needed to create more companies and new jobs in Michigan.  Next was a chance to catch up with long-time friend Sen. Curtis Hertel Jr. (D- East Lansing) and wrap up my meetings on the porch this season.  From there it was back The Gatehouse, where MVCA friend Sen. Rebecca Warren (D-Ann Arbor) and I agreed we should end every Thursday at Policy Conference! There was no end to the folks we saw heading back and forth from the Grand Hotel from this vantage point and so many impromptu conversations make this "the place to be" on Thursday afternoon.  We were joined by new friend Sen. Goeff Hansen (R- Muskegon) whom I look forward to working with in the future.
After many conversations about the future of venture capital and entrepreneurship in the state of Michigan, the day ended appropriately with a chance to catch up with former MVCA Executive Director Carrie Jones.
Friday, June 3
The ferry ride home was a great end cap to the 2016 Mackinac Policy Conference.  It was an exhilarating, enlightening whirlwind of a week, punctuated by many, many opportunities to spread the MVCA message around our state. These relationships are important as MVCA strives to develop a coalition of support for the critical infrastructure underpinning our state's entrepreneurial community, so we can continue to diversify the economy and grow high-quality jobs in our state.