Event Celebrates the Organization's 15-Year Anniversary and Successes of Michigan's Entrepreneurial and Investment Community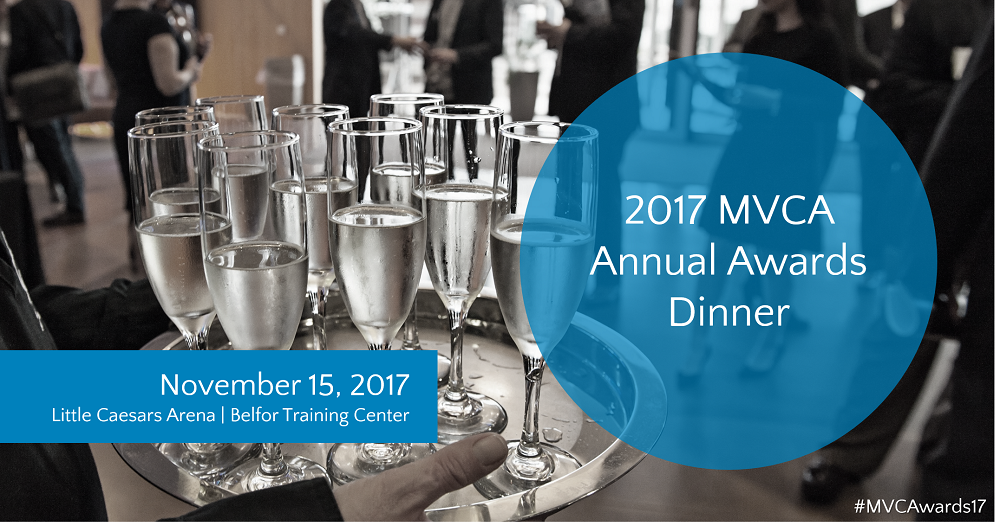 For Immediate Release Oct. 16, 2017 – Ann Arbor, MICH. – Michigan Venture Capital Association (MVCA), the trade association for the venture capital and angel community in Michigan, today announced the nominees for the 2017 MVCA Annual Awards Dinner. The organization will host the event on November 15 at Little Caesars Arena in Detroit to celebrate its 15-year anniversary and the successes of Michigan's entrepreneurial and investment community.
In the 15 years since MVCA was founded, Michigan has achieved:
a 200 percent increase in the number of startup companies receiving venture capital investment.
a 150 percent increase in the amount of capital invested in local startups.
a 300 percent increase in the number of venture capital firms.
a 700 percent increase in capital under management.
---
Share on Twitter: .@MichiganVCA announces nominees for the 2017 MVCA Annual Awards Dinner! https://ctt.ec/l3427+ #MVCAwards17
---
"MVCA has the honor of being part of this exciting journey of stimulating growth, innovation, and economic vitality in our home state – and we are thrilled to celebrate with those who've helped Michigan soar," said Maureen Miller Brosnan, Executive Director of MVCA. "Michigan is positioned as a leader in driving innovation and cultivating an attractive environment for high-growth, high-potential companies. In recognition of 15 years of success, MVCA is celebrating research, talent, capital, and community – the strengths that have built this community into what it is today."
The awards ceremony recognizes entrepreneurs who are taking risks and driving innovation in high-tech industries, capital events that are fueling the growth of Michigan's companies, and the lifetime achievements of notable investors from the state. This year, the organization added a new award – the Community Impact Award – to recognize organizations, events, or individuals that create the meaningful, effective connections necessary to build Michigan's entrepreneurial economy.
2017 MVCA Annual Awards Dinner Nominees
Entrepreneur of the Year
Dan Gilbert – Dan Gilbert is the chairman and founder of Rock Ventures and Quicken Loans Inc., the owner of the Cleveland Cavaliers, Cleveland Monsters, Cleveland Gladiators and the NBA Development League's Canton Charge.
Kalyan Handique – In 2011, along with biologists-entrepreneurs Priya Gogoi, Saedeh Sepehri and Chris Siemer, Kalyan Handique founded Celsee Diagnostics, a life sciences startup that recently received follow-on investment to speed up commercialization of its cancer-detection technology.
Dug Song & Jon Oberheide – Dug Song and Jon Oberheide are the founders of Duo Security, one of the fastest growing cloud-based cybersecurity and software-as-a-service (SaaS) providers in the world.
 Find out why they were nominated for the Entrepreneur of the Year Award here.
 Capital Event of the Year
Cirius Therapeutics – Cirius Therapeutics is a life science startup with research and development operations in Kalamazoo that raised $40.5 million in venture capital last year.
Deepfield – Deepfield is an information technology startup that had one of the most impactful exits in the Southeast Michigan community in the past decade.
LLamasoft – LLamasoft, an information technology startup and global leader in supply chain modeling and design software, announced investment and partnership with TPG Capital in 2017, the global private equity fund of leading alternative asset firm TPG.
Find out why they were nominated for the Capital Event of the Year Award here.
 Community Impact Award
Accelerate Michigan Innovation Competition – Accelerate Michigan, a program of Invest Detroit, is the largest gathering of high-growth, high-tech startups and venture investors in the state, and awards $1,000,000 in cash and in-kind prizes through its pitch competition.
Michigan Growth Capital Symposium – Michigan Growth Capital Symposium has been at the core of Michigan's entrepreneurial and investment community since 1980, connecting early-stage companies with venture capitalists and strategic investors from Michigan, the Midwest and across the USA.
Techstars Mobility – Techstars Mobility is a mentorship-driven accelerator program and is part of the global Techstars network. Techstars Mobility invests globally in startups transforming the future of mobility and transportation.
Find out why they were nominated for the Community Impact Award here.
Lifetime Achievement Award
Ian Bund – Ian Bund is senior advisor and founding partner of Plymouth Growth Partners. He has played an instrumental role in growing and shaping Michigan's venture capital community and was critical to the success of multiple venture capital firms in the state, including the first institutionally backed firm in Michigan.
Mike Jandernoa – Mike Jandernoa is an investor, board member, entrepreneur, and mentor who is committed to Michigan's entrepreneurial and investment community, the vitality of the state, and building connections to grow Michigan's economy.
Jody Vanderwel – Jody Vanderwel is an investor that has partnered with a variety of organizations and startup companies across Michigan by providing financial, intellectual and networking resources.
Find out why they were nominated for the Lifetime Achievement Award here.
MVCA members will vote to select the winners for each category. The four winners will be announced live at the dinner.
To register for the MVCA Annual Awards Dinner and find out further information, please click here.
---
About Michigan Venture Capital Association
The Michigan Venture Capital Association (MVCA) is a non-profit trade organization designed to increase the amount of capital and talent available to venture and angel investors for the funding of Michigan's most innovative entrepreneurs, as well as to work closely with them to transform breakthrough ideas into new companies and industries that drive Michigan job creation and economic growth. MVCA membership includes private and corporate venture capital funds, angel investors, universities and economic development organizations, and service providers. More than 400 individuals are members of MVCA, representing over 100 organizations across the nation. For more information, visit www.MichiganVCA.org.
Media Contact:
Amber Pineda
Marketing and Communications Manager, Michigan Venture Capital Association
O: 734-585-0324