by Maureen Miller Brosnan, Executive Director, MVCA
Mackinac Island may not have had the best weather this year, but this didn't stop the change-makers attending Detroit Regional Chamber's annual Mackinac Policy Conference. This year was one of our most productive years yet at the Mackinac Policy Conference. MVCA had the opportunity to meet extensively with almost 20 legislators willing to take chances on tomorrow's big ideas today and engage in great conversations about trends from the 2017 MVCA Research Report. I was joined by MVCA Associate Director, Emily Heintz, to help spread the word about Michigan's thriving entrepreneurial and investment community, which is becoming more recognized nationwide and attracting capital from outside of the state due to its unique combination of research, talent, and ideas.  Crain's Detroit Business developed a special report on venture capital activity in Michigan with a recap of our report, which rolled off the presses the Monday before we left for the island and helped set the stage for our discussions throughout the week.  We were off to a great start!
Wednesday, May 31
The first official day of the conference kicked off with exciting keynotes, including a "Mackinac Moment" with SPLT CEO and Founder, Anya Babbitt. SPLT was one of the first startups to complete the Techstars Mobility accelerator program in 2015. Emily got a chance to see Anya's presentation while I did a radio interview with Michigan Business Network, who had a prominent role at Media Row.  Then I caught up with MVCA member, Ned Staebler, TechTown's CEO. Wrapping up the day of keynotes, Detroit Mayor Mike Duggan gave an inspiring speech on housing development, equity, and inclusiveness. From there we zipped to the annual Muchmore, Harrington, Smalley & Associates (MHSA) reception at Mary's Bistro, followed by a stop at a reception hosted in honor of  Congresswoman Debbie Dingell (D-12) at the Stroh Cottage.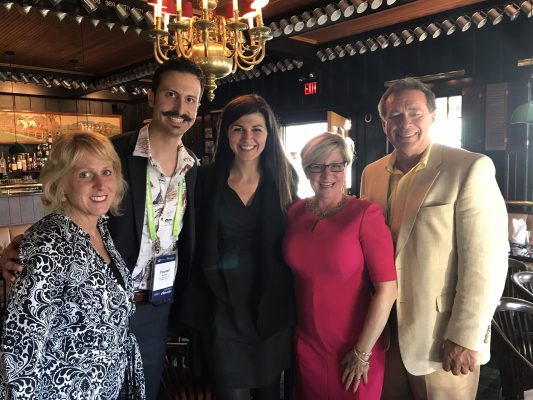 Thursday, June 1
The second day of the conference we took up residence at the Jockey Club where we had back-to-back meetings with state legislators from 9:30 a.m. – 6:30 p.m. thanks to MVCA's Legislative Advocacy Team at MHSA.  Lobbyist Evie Sweeney provided excellent connections and lined up meetings with state legislators who were new to office or the committees key to our legislative initiatives. These meetings afforded us the opportunity to provide a deep dive on one of the key initiatives of our legislative agenda – how to increase access to capital for Michigan's entrepreneurs.  We met with Representative Ben Frederick (R-85), Senator John Proos (R-21), Sen. Ian Conyers (D-4), Rep. Bronna Kahle (R-57), Rep. John Hoadley (D-60), Rep. Kim LaSata (R-79), Rep. Abdullah Hammoud (D-15), Rep. Jim Lilly (R-89), Rep. Jeremy Moss (D-35), Rep. Yousef Rabhi (D-53), Rep. Scott VanSingel (R-100), Rep. Henry Yanez (D-25) and Rep.  Donna Lasinski (D-52) . I also attended a reception honoring Speaker Pro Tem Lee Chattfield (R-107) and caught up with Speaker of the House Tom Leonard (R-93) at the same event and secured an invitation to meet with him in Lansing.
Legislators were receptive to our message and understood the importance of supporting Michigan's investment community to create more companies and new jobs in Michigan. Governor Snyder gave his keynote highlighting the growth of the mobility sector and connected technology in Michigan. We also ran into MVCA members, Chris Rizik of Renaissance Venture Fund and Chris Thomas of Fontinalis Partners! The day was packed with great conversations on the importance of building Michigan's entrepreneurial and investment community to ensure Michigan's economic health in the long run.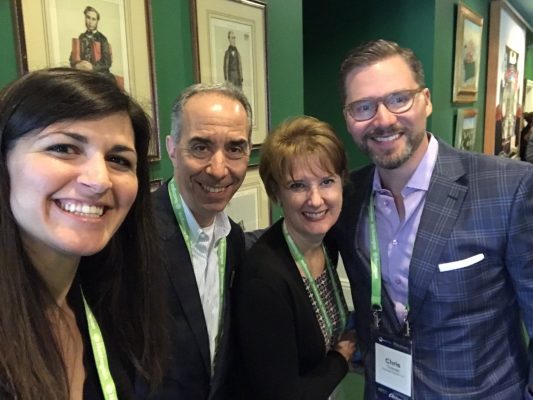 Friday, June 2
Friday morning, we headed home, but not without a quick stop to get some fudge!  And just as we pass by the Mackinac Bridge our phones alert us that the op-ed piece we were working on for Bridge Magazine hit the press. It was excellent close to a busy and fulfilling week advocating MVCA's message about building Michigan's entrepreneurial and investment community to ensure high-potential, high-growth companies have adequate access to capital (you may have caught us live on Facebook recapping the trip!). These relationships are pivotal to developing a deep coalition to build the infrastructure that supports our entrepreneurial community, so we can diversify our economy and continue to increase economic opportunities in the state.