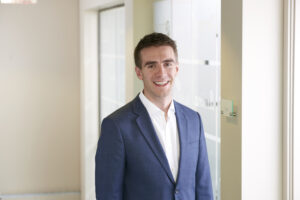 ANN ARBOR, MI (August 11, 2021) – Arboretum Ventures, a leading healthcare venture capital firm based in Ann Arbor, Michigan, today announced that Dan Kidle has been promoted to Managing Partner. Dan joined Arboretum in 2011 as an Analyst, and after successive promotions, was made Partner in 2020. Before joining Arboretum, he held a corporate finance position at Eli Lilly & Company. Dan focuses on transformative technologies across Arboretum's sectors of interest with particular emphasis on diagnostics and life science research tools,
which comprise the majority of his investments to date.
"Dan is very deserving of this promotion to Managing Partner and has played a central role in our firm's continued success," says Tom Shehab M.D., Managing Partner. "He will continue to provide vital leadership within the firm and in the management of our current and
future funds."
Dan's investment portfolio and board involvement includes Flosonics Medical, Jumpcode Genomics, and Dropworks. Previously, he served on the board of IntelliCyt, which Sartorius acquired in 2016, and was board chair of Swift Biosciences, which was acquired by IDT in 2021. He is recognized internally and among Arboretum's investment partners as a strategic thinker and financing structure expert.
Additionally, Dan received the National Venture Capital Association's prestigious Rising Star Award in 2020. Dan earned both his BBA and MBA from the Ross Business School at the University of Michigan. He also serves on the Investment Advisory Board for the University of Michigan Biomedical Venture Fund.
About Arboretum Ventures:
Arboretum Ventures is an early‐stage venture capital firm specializing in the healthcare sector. We focus on investments in medical devices, life science tools & diagnostics, and tech‐enabled care delivery. Our guiding vision is to identify transformative healthcare companies that are developing improved and less costly solutions to large, chronic health problems in a capital‐efficient manner. Founded in 2002 and located in Ann Arbor, Michigan, we currently manage $700 million in capital across five investment funds with our most recent fund closing in 2019 at $250 million. For more information, please visit www.arboretumvc.com.