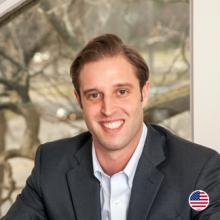 Beringea's Bill Blake completed his two-year MVCA Fellowship last month, but he's not leaving the Farmington Hills growth capital investor.  We asked Bill to reflect on his time as a Fellow, including his experience investing alongside other notable Michigan venture firms, even as he continues on as a Senior Associate at Beringea.
Tell us about your Fellow position – where are you, what are you doing?
I am concluding my fellowship with Beringea, a growth capital provider to Midwest-based businesses. My primary responsibilities support deal execution efforts as well as business development initiatives related to fundraising and deal flow generation. Additionally, I support Beringea's reporting requirements on its Michigan Growth Capital Partners series of funds.
Throughout my fellowship, I continuously sought opportunities to expand the scope of my deal execution responsibilities. My efforts as they relate to due diligence include financial modeling and analysis, market research and analysis, management team evaluation, customer interviews, and product or service application assessment. I have taken initiative to drive deal processes forward when possible via efforts beyond those associated with due diligence and, going forward, seek to heighten the level of my participation in term and transaction structure negotiations.
As it relates to business development, I have recently played a larger role in assisting Beringea's fundraising initiatives as it relates to document and content creation. I hope to continue to assist in Beringea's fundraising efforts as it offers a great learning opportunity and insight into an area of private equity and venture capital with which I have limited tangible experience. Further, I will continue to seek opportunities to expand my role in business development initiatives in an effort to contribute to strong, steady deal flow for Beringea.
Best deal done during your tenure? Or favorite technology or CEO or solution you've encountered during your time as a fellow?
The best deals I've worked on from a personal perspective would include Beringea's investments in Rethink and InContext Solutions. I enjoyed these transactions for several reasons.
First and foremost, Beringea led or co-led investments in Rethink and InContext Solutions with Arboretum Ventures (Rethink) and Plymouth Venture Partners (InContext Solutions).  I enjoyed having the opportunity to work with two well respected Michigan-based venture capital groups and experience first hand their respective approaches to transactions.

Second, both Rethink and InContext Solutions have developed incredibly impressive solutions for their respective industries. Rethink is a software-as-a-service technology company seeking to ensure that children on the autism spectrum, as well as those with other cognitive impairments, have access to effective and affordable evidence-based treatment options. Rethink provides professionals, parents, and family members with the tools, technology and information necessary to teach children with autism, as well as other developmental disabilities, in a manner easily understood and applied. InContext Solutions, on the other hand, delivers state-of-the-art, web-based, fully interactive 3D environments and shopping simulations to its marketing research clients and has developed and commercialized a software-as-a-service based platform for manufacturers and retailers to develop, test, and execute retail marketing concepts and strategies. InContext Solution's clients and customers include some of the largest and most recognizable retailers, consumer packaged goods, and durable consumer goods companies in the world.
Lastly, interacting with and assessing the management teams for both Rethink and InContext Solutions provided me with a tremendous amount of insight into two very different approaches to the size, structure, and skillset composition of promising management teams. I hope to discover both approaches to be successful.
One thing you've learned during your fellowship that you didn't know before you started in the industry?
Prior to joining Beringea and becoming active on the buy-side, I was under the impression, from my experience as a M&A advisor, that the alignment of goals and objectives among investors and between investors and management teams could largely be accomplished through deal structure and compensation plans. While these mechanisms certainly mitigate a large portion of risk as it relates to alignment, I've learned objectives and goals have the potential to change significantly over time and as businesses evolve. I do not want to say that I was ignorant to this possibility prior to my fellowship, but my appreciation for this nuance and the human element in investing has grown.
Anything surprising you've learned about yourself/your perspective on venture capital as a profession you didn't know before you started?
While there are obvious instances that are exceptions to my comments that follow, I was pleasantly surprised at the amount of collaboration that exists in the venture capital community among investors and, more specifically, among investors in the Michigan venture capital community. While confidentiality and auction processes limit collaboration to some extent, I've found that venture capital investors generally have a genuine interest in assisting each other when possible and approach opportunities mindful of others' goals and best interests.
Plans for post-Fellowship?
Following my fellowship, I have been afforded the opportunity to remain with Beringea and I am looking forward to continuing to invest and manage the Michigan Growth Capital Partners series of funds and having an active role in the upcoming fundraising endeavor we plan to initiate. I have enjoyed being a part of the wonderful culture and work environment Beringea has developed and am anxious to participate in Beringea's promising future.