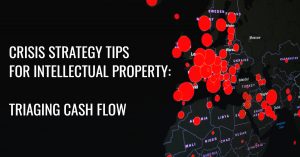 COVID-19 has turned the world upside down. Companies are facing unprecedented financial constraints and making difficult decisions to conserve cash. Fishman Stewart's intellectual property (IP) attorneys weigh in via an interactive panel discussion.
Topics include:
Pausing the patent cash burn rate
Implementing cost-effective ways to protect brands and inventions
Deploying smart business practices to safeguard the competitive advantage
Join the Fishman Stewart live panel discussion via Zoom next Tuesday, 4/7 or Thursday, 4/9 to learn Crisis Strategy Tips for Intellectual Property. Doug LaLone will serve as the moderator. Panel members are Paul Ratzmann, Melissa Atherton, and Michael Fluhler.
This is a free webinar. Click below to register!
Fishman Stewart (MVCA Service Provider member)  is a premier intellectual property law firm with decades of legal expertise. Many of our attorneys have advanced technical degrees and associated practical work experience. As strategic advisers to CEOs and senior executives throughout the world, we help maximize the value of our clients' creativity. Patents, trademarks, copyrights, trade secrets and other forms of intellectual property are key elements of a company's business strategy. Managed effectively, they can protect new product lines and services, increase market share and head off competition.