Job Opening: Associate Director
Michigan Venture Capital Association
Location: Novi, MI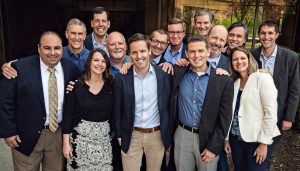 We seek a well-organized, self-directed, detail-oriented associate director with a track record of achievement to work with entrepreneurial leaders in the state of Michigan. The individual will work collaboratively with a broad range of constituencies, including venture capitalists, public officials and others in the technology community.
The associate director will report to the MVCA executive director and be responsible for program development and oversight, MVCA events, database management, office operations including accounts payables and producing financial statements and annual budget.
Job responsibilities include:
Planning and executing MVCA programs that attract and retain the best talent for the Michigan venture capital community
Assist the executive director to develop and obtain funding for programs that help grow the venture capital industry and entrepreneurial ecosystem in Michigan
Work with MVCA committees to develop programs in addition to MVCA members to promote utilization of programs
Process applications and assure programs are administered in compliance with grant terms
Work with executive director to secure additional funding for MVCA programs
Planning and executing MVCA events that strengthen the association, its communication with its membership and communication with prospective members
Oversee planning and execution of all association events including the Annual Awards Dinner, Michigan Growth Capital Symposium After Party, Investor Only Reception and all other networking and educational events
Oversee database creation and management
Managing MVCA office and maintaining high MVCA professional standards
Work closely with the executive director to ensure organizational goals and objectives are met
Supervise and train event manager in planning of all association events
Manage MVCA financial records (accounts payable, budget, and financial statements) and contract service providers
Key skills and attributes include:
A minimum of five years of professional work experience
Proficient in Quickbooks Online including the development of profit and loss statements and budgets
Experienced project manager
Demonstrated ability to effectively build relationships with internal and external constituencies
Excellent time management skills
Strong written and verbal communication skills and exceptional organizational skills
Educational and other requirements:
Applicant must have a bachelor's degree. Business or accounting degree preferred
Some evening work and occasional travel around the state will be required
Competitive salary and benefits offered commensurate with experience.
To Apply:
If interested in applying, please send a cover letter and resume to [email protected]
DEADLINE TO SUBMIT is Friday September 13, 2019.