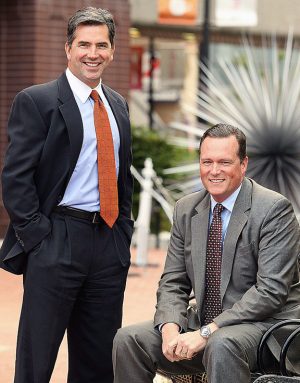 Grand Rapids, Mich., June 3, 2016 — Charter Capital Partners, a Grand Rapids, Mich.-based investment banking and capital management firm, today announced the closing of the MAF Opportunity Fund. The $5 million fund was over-subscribed with investment commitments coming from institutional, family office, and individual investors. The Fund was organized to invest in elite companies from its predecessor fund, Michigan Accelerator Fund I.
John Kerschen and Dale Grogan, both managing directors of Charter Capital Partners, also serve as managing directors of the Michigan Accelerator Fund I and the MAF Opportunity Fund. The management team is rounded out by Brian Hamilton, Senior Venture Capital Associate.
"Over the past five years, we believe that we have built a strong portfolio within the Michigan Accelerator Fund, with several companies demonstrating excellent progress towards value accretion and a near-term exit," said Kerschen. "As our portfolio companies mature, they have continued capital needs. Like many smaller, early-stage venture funds, we were nearly fully deployed and had limited ability to continue investing in the portfolio; hence the development of the MAF Opportunity Fund."
The MAF Opportunity Fund will invest in three to five companies, primarily from within the Michigan Accelerator Fund portfolio. The Fund will focus on companies that have an imminent capital need, potential for a near-term exit, and have demonstrated external market validation such as a strategic partnership, revenue traction, or crossing a regulatory threshold.
"The fact that the Fund was oversubscribed in seven weeks indicates that investors support our vision and the investment thesis of early-stage investing in Michigan-based companies," said Grogan. "We have seen tremendous investment opportunities over the past five years and fully expect that this trend will continue as realizations occur. Hopefully success will beget success and we will have the opportunity to raise another fund in the coming years."
---
About Charter Capital Partners
Founded in 1989, Charter Capital Partners is an investment banking firm with multiple offices in the Midwest. Advisory services range from capital raise for start-ups, acquisition and growth capital; to business valuation, exit planning and business sale. Charter Private Capital Management is a Registered Investment Adviser, professionally managing venture capital and other privately invested funds. Entities managed by Charter principals have invested more than $50 million into companies in a wide range of industries; leveraging more than $250 million in venture investment. To learn more, visit chartercapitalpartners.com.