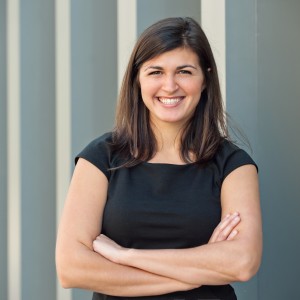 I'm so excited for post 1 in our research series!!  After 3 months of collecting, verifying, and analyzing data for the 2016 MVCA Research Report – there are a few trends that have me scratching my head.  So this year, we're turning to the community – every other week I'll walk you through my line of thinking and trends on a particular topic and will ask for your interpretation.  This week we have responses from Jeff Rinvelt (Renaissance Venture Capital Fund), Joe Malcoun (Nutshell), Doug Neal (Michigan eLab), and Guy Turner (Hyde Park Venture Partners).  Lets begin…
---
The data collected from Michigan's 36 venture firms shows consistent growth in Michigan's investment community that, in many cases, outpaces national trends.  It's no major surprise because Michigan is a relatively young entrepreneurial and investment community that's still in growth mode.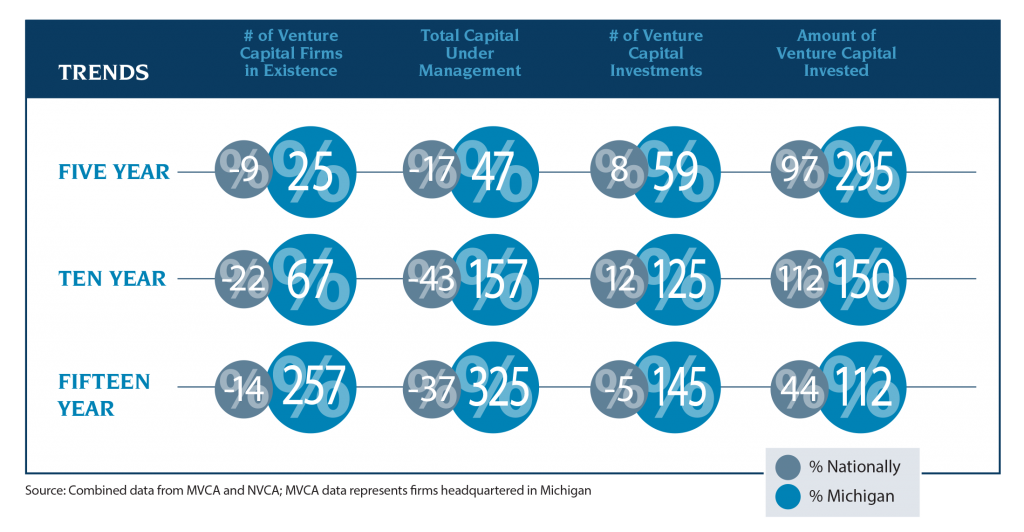 But, that growth is also coupled with obvious markers of "opportunity" in Michigan's entrepreneurial community.  A couple stats for the scoreboard: Although Michigan ranked 18th in venture capital invested in 2015, this state has the highest research spending-to-venture capital investment ratio in the nation, the 7th highest number of PhDs in science and engineering, and ranks 6th nationally in the number of invention patents issued.  So the data would indicate that the fast growth in the venture community seems to be tied to a state that is rich in research, talent, and ideas which is promising for the long-term viability of the entrepreneurial community in Michigan.
Research, talent, and ideas lead to great companies starting in Michigan and as a result, an increasing demand for angel and venture capital.  For as great as the growth stats are in the venture capital community, they are being eclipsed by the growth in the entrepreneurial community and the data behind the 2016 MVCA Research Report supports that conclusion EVERY YEAR.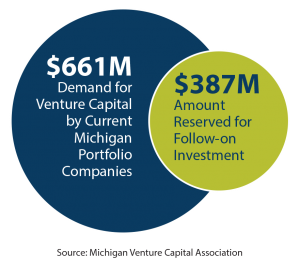 MVCA surveys every venture firm with an office in Michigan.  Currently, venture capital firms in Michigan had approximately $387 million reserved for follow-on investment into their existing Michigan-based portfolio companies, an increase of 258% percent from last year.  Good news!  However, the growth in the demand for venture capital is outpacing that local supply – actual follow-on demand by existing Michigan portfolio companies over the next two years will approach $661 million, reflecting the need for additional funds to help Michigan's many venture-backed companies succeed.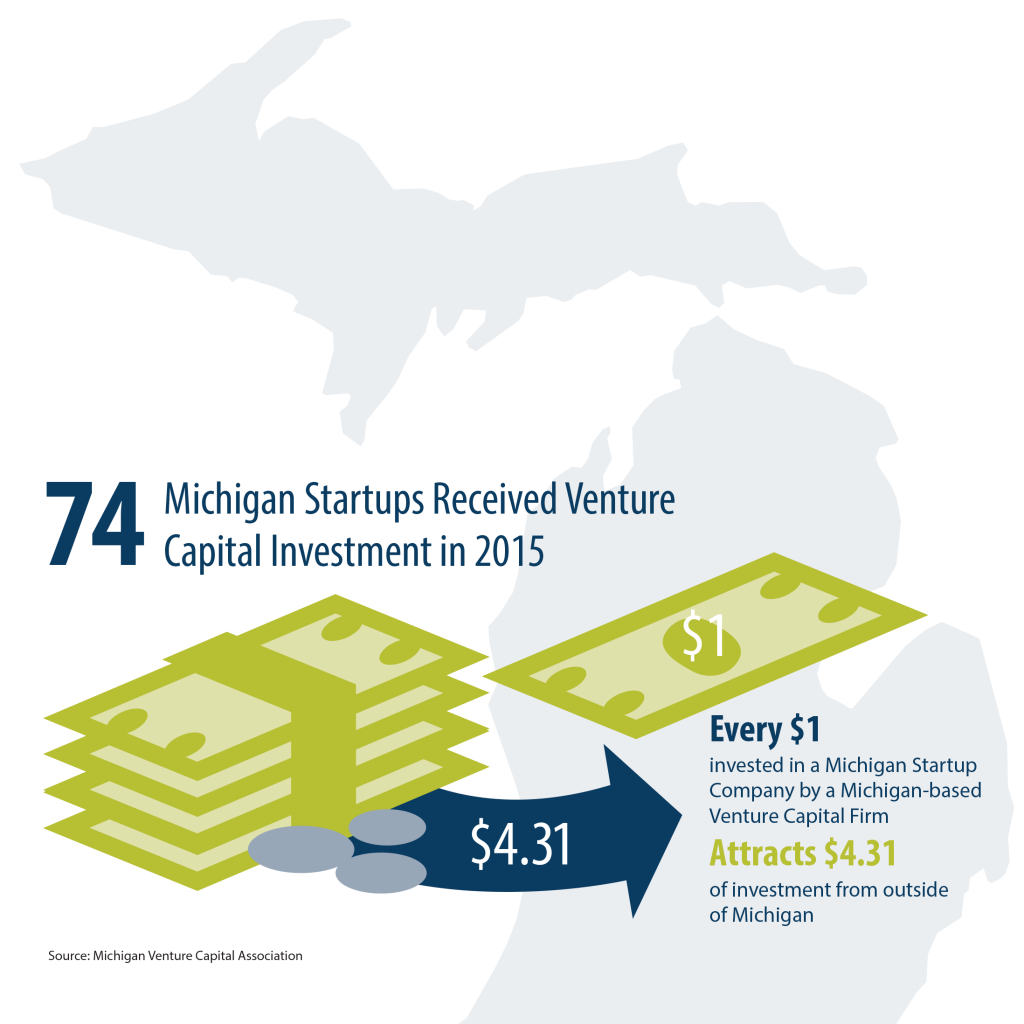 Last year, Michigan venture capital firms contributed 23% of the total capital invested in Michigan startups.  The remaining 77% came from venture capital firms outside of Michigan, illustrating the importance of attracting investors from beyond the state's borders.  More than 300 venture capital firms from outside of Michigan have invested in Michigan startups!  Every $1 invested in a Michigan startup by a Michigan venture capital firm attracts $4.31 of investment from outside of Michigan.
So here is a question that the data behind the 2016 MVCA Research Report raises in my mind:
Are these trends a symptom of a maturing entrepreneurial and investment community or is the growing capital gap and the spike in out of state capital fueling our entrepreneurial community a red flag?
On one hand, we have great startup companies in Michigan and a great investor community to be the "feet on the street" so of course the nation is going to take notice.  But on the other hand, if startup companies are having to travel across the country to get enough capital to grow, are all the startups going to slowly start relocating to places where they can fundraise more easily?
---
Responses:
Guy Turner, Partner, Hyde Park Venture Partners
MVCA member, Hyde Park is a Chicago-based venture capital firm that actively invests in Michigan startups
This is a sign of a maturing market. Assuming that much of the in-state capital is early-stage (Series Seed, A and B) and much of the out of state capital is mid and growth stage venture (Series C and D), this is exactly what we'd expect in a maturing ecosystem. Early stage capital is a local business – this is why HPVP spends so much time on the ground in markets like Ann Arbor, Cincinnati, Indianapolis, St Louis, Minneapolis, Madison, etc. You have to be there to find the opportunities, partner with entrepreneurs and help them grow businesses early on. At the later stages, capital markets are national. A big coastal fund will fly in with a $10-20M check, but they can't afford to for a small check… nor do they have the time and network to be active and helpful on the ground locally. Of course, they can bring a national network that adds a different kind of value at later stages for hiring, partnering and acquisition.
Jeff Rinvelt, Managing Director, Renaissance Venture Capital Fund of Funds
MVCA member, Renaissance, is a Michigan-based fund of funds that invests in Michigan-focused venture firms
The trends in Michigan show additional future opportunities for growth in Michigan, while also providing warnings. With the year-over-year growth in venture capital investment, Michigan appears to be establishing itself as a good place for investors from all over the US to invest, dissolving the biases that some coastal firms had regarding investments in the Midwest. But to establish a stable, long-term entrepreneurial ecosystem, Michigan will also need to continue to grow and strengthen its resident venture capital community, particularly to develop early-stage start-up companies, whether coming from university technology or community innovation.
Joe Malcoun, CEO, Nutshell
Nutshell is a Michigan-based IT company that has raised capital from Michigan venture firms
I don't see a major flight of companies and entrepreneurs chasing capital on the coasts. That may have been the case, but it's no longer necessary. If people are leaving this community, it's not because of lack of capital. They may want to be a part of a different scene, but that's a personal preference and not a business decision. We're seeing more and more outside funds coming in to get to learn about our startup community. I must give a tour a month and each time I do investors are always pleasantly surprised and outright excited about following up.
Doug Neal, Co-founder and Managing Director, Michigan eLab
MVCA member, Michigan eLab is a Michigan and California-based venture capital firm that actively invests in Michigan startups
No, this capital gap is not a red flag.  When considering the venture capital and entrepreneurial growth in the Michigan ecosystem and the additional capital needed for investing in later stage Michigan startups we have to consider several factors including investor value add and the regional cost of company expansion.  We have some great investors in Michigan but we also need to syndicate with investors outside of Michigan with specific domain and stage expertise to help our companies grow.
I'm not concerned that attracting non-Michigan investors for later stage investments will have a significant impact on the location of companies given both the cost efficiency of Michigan and the critical mass that companies achieve prior to raising their later rounds.  The median price of a home in Silicon Valley, for example, just crossed the $1M mark which is 3X the median price of a home in Ann Arbor.  The capital required to build companies and pay employees in Silicon Valley is becoming unsustainable and there are significant advantages to building companies here.
Most large exits still happen through Silicon Valley, this is a fact.  That means we have to strategically engage with investors and talent from the valley.  At eLab, leveraging Silicon Valley growth capital and the economic efficiency of building companies in emerging markets like Michigan has been core to our entire thesis and is why we have an office in both Ann Arbor and Silicon Valley and also why more than 60% of the companies we have invested in are headquartered here.