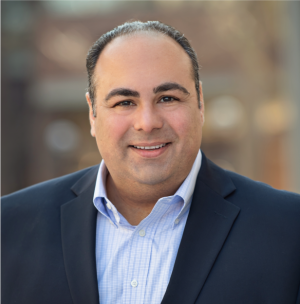 Earlier this month, we announced Ara Topouzian as our new executive director! Ara has deep experience in the economic development sector and was formerly the president and CEO of the Troy Chamber of Commerce. In his own words, here's why Ara joined MVCA, his vision for the association and what he does outside of working with Michigan's entrepreneurial and investment community!
---
We're excited to have you join the team as our new executive director! What brought you to MVCA?
I am equally as excited to be at MVCA! For close to 25 years I have worked to promote economic development efforts within southeastern Michigan as well as lead nonprofit business associations.  Prior to coming to MVCA, I was the president and CEO of the Troy Chamber of Commerce where I led our efforts to support existing members and attract new ones by creating programming and collaboration opportunities for business growth. Before my role at the Troy Chamber, I served as the economic development director for the City of Novi for seven years. In that position, I provided strategic direction for both business attraction and retention within the community. Before Novi, I worked for the Farmington Hills Chamber of Commerce in various roles including president and CEO. My extensive experience is a perfect fit for my new role at MVCA and progression as an association leader.
How do you think you'll apply your economic development background to help grow the organization?
I define economic development as a means of helping the overall well-being of our community. My background in developing collaborations and partnerships will be part of my "method of madness" to reach MVCA's goals.
What initiatives are you most looking forward to working on in your new role?
There are many initiatives I am looking forward to exploring at MVCA. One of those would be an increased outreach to our legislators and other constituents about the impact of the entrepreneurial ecosystem that exists in Michigan. Additionally, exploring new partnerships and collaboration opportunities to further support and grow the entrepreneurial and investment community is going to be an exciting challenge that I'm looking forward to.  It will also be great to work more with the MVCA membership – I have been so impressed with their strong dedication and passion for growing Michigan's entrepreneurial community and using MVCA as the platform for achieving this goal.
There's been a lot of attention on emerging tech ecosystems across the country. What do you think makes Michigan a great place to launch and grow a business?
I strongly feel we have some of the finest educational institutions in the country that are producing brilliant minds. It's our job now to show our future generation of entrepreneurs that Michigan is the place to stay and build their careers. The state is on a trajectory of growth and is positioned to be a key player on the global economic scene. MVCA can play a critical role in building relationships between venture capitalists and entrepreneurs, so they can see the value and potential in remaining and investing in Michigan.
What excites you the most about working with Michigan's entrepreneurial and investment community?
There is much to be excited about when you talk about Michigan. I am a lifelong and proud Michigan resident and that is because of the wealth of resources and opportunities available to us. We have some of the finest talent coming out of our educational institutions creating innovative ideas that affect our lives. This talent needs to stay in Michigan, and we need to nurture them. What excites me about this is helping both the investment and entrepreneurial communities realize these goals. Having the ability to help shape and strengthen Michigan's economy should excite all of us!
Tell us about yourself outside of work!
I am married. My wife Della and I have two wonderful children (Aline and Alec). We currently live in Farmington Hills but are remodeling my childhood home in Bloomfield Hills and will be moving into that house sometime this spring. I am also a musician. I perform traditional Armenian and Middle Eastern music on an instrument called kanun (a Middle Eastern harp with over 70 strings). I perform around the country and was honored in 2012 to become a Kresge Artist Fellow, which is the highest honor a musician can receive in Michigan. In 2015, I produced a film documentary about Armenian music in Detroit that aired internationally on public television (PBS).