The Michigan Venture Capital Association is proud to offer the Venture Fellows Program to Michigan's venture capital community. The program, launched in 2023, is designed to increase the number of venture professionals in Michigan in order to accelerate the fundraising and deployment of capital into early-stage companies.

Keegan joined Arboretum in 2023 and is responsible for evaluating new investment opportunities and supporting Arboretum's portfolio companies. Prior to joining Arboretum, Keegan was a Senior Consultant in Deloitte's Life Sciences & Healthcare practice where he supported client projects at the interface of health and technology for market leading healthcare incumbents, start-ups, and big tech entrants. Keegan earned his BS in economics and MHSA from the University of Michigan and is MVCA's second Venture Fellow.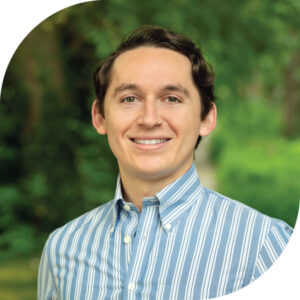 What are you most looking forward to about being a Venture Fellow?
Getting plugged into the Michigan start-up and VC ecosystem. Despite living almost my entire adult life in Michigan, this is a world I have never had exposure to before. I've already been enjoying getting to know my peers in the Fellowship program and am sure I will continue to learn a lot from them.
What attracts you to Michigan's venture capital industry?
Over the course of my 18 years of public-school education here in the Mitten, I've been lucky to meet many enterprising young Michiganders. The majority of these bright minds left the state after undergrad, and few have returned. As I see it Michigan is exporting state subsidized talent to the rest of the country, and as easy as it would be to blame the winter, in my experience its been the result of a lack of career opportunities. This is a solvable problem. Its my hope that in some small way I can help to allocate capital to winning businesses here in Michigan, empowering them to attract, retain, and reward our State's greatest natural resource—its people.
What ideas do you have to support and advance DEI in our entrepreneurial and investment community?
As an associate at Arboretum, I often serve as the front door to funding requests from start-ups across the Life Sciences and Healthcare ecosystem. From this position I can filter for companies that are solving problems in under ventured and under resourced areas of healthcare. The University of Michigan School of Public Health, where I received my master's degree, is a leading research entity on issues of health equity in the US. I'm fortunate that the curriculum played heavily with those topics and gave me an excellent map of the territory. I plan to help connect promising companies from outside of the healthcare VC zeitgeist to funding, and where possible educate up and coming students and entrepreneurs about the funding environment.
What do you hope to be doing in 10 years?
I hope to continue drinking from the fire hose that is modern healthcare in America–learning each day about the problems that remain, and the people working hard to solve them. I hope I am in a position to convince limited partners that wise investments in healthcare return twice, once in capital and once again in human flourishing. I hope that I've built a robust network of peers and mentors and that through them I continue to develop professionally and personally. And on the personal front, I hope I am closer to being able to play some of John Fahey's masterpieces on guitar.
What's your dream deal — the company you wish YOU had spotted first?
I am fascinated by the discrepancy we have in this country (and most others so far as I can tell) in how we prioritize mental and physical health. If we go back to the original Michiganders, the Anishinaabe people, the physical and mental were seen as equally fundamental to an individuals' state of wellbeing. I think that's a tradition we ought to return to. It's of course difficult to operationalize mental health in the way we have physical, and as a result it has historically been under ventured. For example, in 2021 a record breaking $2.4B was invested into mental health companies by VCs, as compared to the $84B in physical health. However, in the last decade, advancements in telemedicine and rigorous scientific understanding of mindfulness has enabled start-ups to deliver mental health services at unprecedented scale. Headspace and Ginger are two obvious winners in this field.
Learn more about the Venture Fellows Program supported by the Michigan Economic Development Corporation.