Supply chain technology company continues to push innovation in the marketplace

ANN ARBOR, Mich. (September29, 2015). LLamasoft, a supply chain software innovator, announced that it has closed a $50 million Series B financing round with affiliates of Goldman, Sachs & Co.  The minority investment will be used to fund numerous technology development and growth initiatives.  Goldman Sachs will have one seat on LLamasoft's Board as part of the investment.  Existing Michigan-based venture investors include MVCA members, MK Capital, Augment Ventures, and Invest Detroit.
LLamasoft provides supply chain design, analytics and planning solutions to many of the world's largest companies.  In each of the last three years, LLamasoft has ranked as the fastest-growing supply chain software company in the exclusive Deloitte Fast 500 list of North American technology companies.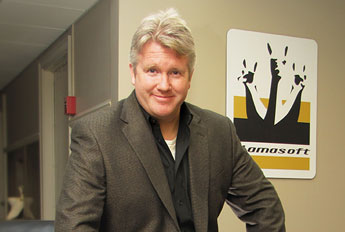 LLamasoft CEO Don Hicks stated, "We are excited about our new relationship with Goldman Sachs.  The capital will help us accelerate our innovation and enable us to better partner with our clients on new business solutions.  Goldman Sachs' business experience will also provide professional guidance and strategy for our continued growth.
"We have been impressed by the number and scale of global organizations that have successfully deployed LLamasoft to date, particularly given the very limited use of outside capital," said Jason Kreuziger, Vice President in the Merchant Banking Division of Goldman Sachs.  "We are excited to partner with Don, Toby and the entire team as we work together to leverage this investment to further serve and expand this group of customers."
Additional financial terms of the transaction were not disclosed. Goldman Sachs was advised by Fenwick & West LLP.  LLamasoft was advised by DLA Piper LLP (US).
---
About LLamasoft, Inc.
LLamasoft software helps organizations worldwide design and improve their supply chain operations. LLamasoft solutions enable companies across a wide range of industries to model, optimize and simulate their supply chain operations, leading to major improvements in cost, service, sustainability and risk mitigation. Headquartered in Ann Arbor, Michigan, LLamasoft is a technology provider to many of the world's largest companies.
Media Contact LLamasoft, Inc.: Ginger Stegmier, Send email, 734.669.3215