By Emily Heintz, Associate Director, MVCA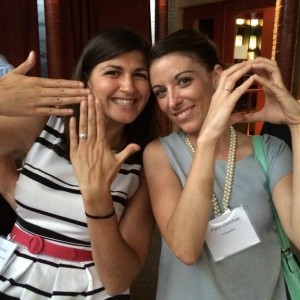 Maureen and I just returned from Ohio, where we visited with venture firms and built a stronger relationship with Ohio's venture capital association, VentureOhio. VentureOhio and their executive director, Falon Donohue, has been a valuable partner to us in spreading the story of Michigan entrepreneurial and investment success to our friends "down South", and we wanted to meet some of their influential community members in person.
Visiting entrepreneurial & investment centers around the Midwest provides a great opportunity to connect Michigan investors with potential co-investors and build a stronger Midwest community. While in Ohio, MVCA co-hosted an investor-only networking reception with VentureOhio to solidify the relationship between Ohio and Michigan investors.  As detailed in the MVCA Research Report, Michigan venture capital professionals estimate that the 129 active venture-backed firms in Michigan will require more than $1.3 billion in follow-on funding in the next few years.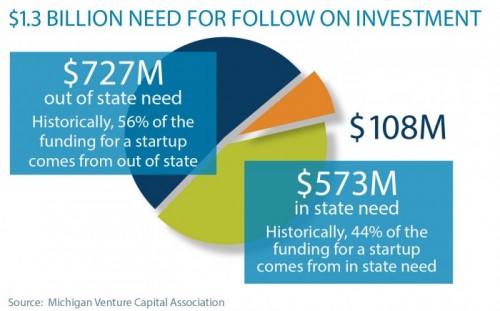 Venture capital firms in Michigan have earmarked an estimated $108 million for follow-on funding, so the additional money has to come from both new funds raised by our firms as well as out-of-state investment into Michigan. Over 30 investors gathered at the MVCA & VentureOhio networking reception in Cincinnati, and we were able to share the Michigan message with all of them!
In addition to the networking reception, we also had two jam-packed days of meetings where we met members from a good portion of the venture capital firms in Cincinnati and Columbus!  It was very informative to hear more about the investment community in Ohio and see how many similarities there are between their community and ours.  Special thanks to VentureOhio, UpTech, Brad Zapp, River Cities Capital Funds, CincyTech, Centrifuse, Allos Ventures, West Capital, Brandery, NCT Ventures, rev1 Ventures, Drive Capital, Draper Triangle Venture Capital for meeting with us while we were in town!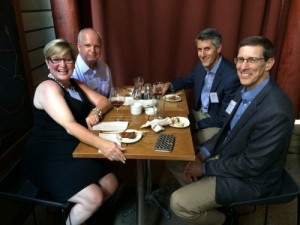 At each stop in Ohio, we gave an overview of the Michigan angel and venture capital community and provided hard copies of the MVCA Research Report for reference.  It was also great to show the Ohio investors our newest tools, the Entrepreneurial & Investment Landscape Map and the Landscape Guide.  Both should prove extremely helpful in encouraging Ohio investors to connect with our community in Michigan (and if you know of an out-of-state investor who should get a copy of our Landscape Guide, please email me at [email protected]!).
Thank you to our amazing, dynamic membership and board for making MVCA a very special organization and letting us proudly represent the Michigan investment community outside our state borders!
---
About Emily Heintz
With a background in economic development, capital markets, and finance, Emily Heintz brings technical and practical expertise to her role as Associate Director of the Michigan Venture Capital Association. Heintz supports Michigan's vibrant venture capital community by developing the MVCA Research Report, planning educational and networking events, managing talent programs, and advocating for Michigan's entrepreneurial community.
Prior to joining the MVCA in 2013, Heintz was a Capital Markets Associate at the Michigan Economic Development Corporation and the Accounting Manager at Ann Arbor SPARK.
Heintz holds both a BA and MS in Accounting from the Michigan State University.