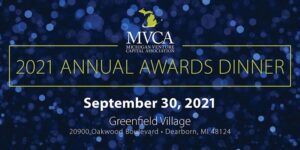 Novi, Mich. – July 19, 2021 – Michigan Venture Capital Association (MVCA), the trade association for the venture capital and angel community in Michigan, hosted its 2019 Annual Awards Dinner at Greenfield Village on September 30. At this event, MVCA will announce awards the investment and entrepreneurial community.
"We all have been through a challenging few years, but we are very excited to bring back our annual awards dinner celebrations. More so now than ever, we need to recognize and celebrate the achievements by our investor and entrepreneur community", said Ara Topouzian, Executive Director of MVCA.
Tickets are now on sale by CLICKING HERE.