MVCA Venture Fellow, Blake Robbins, associate at Ludlow Ventures recently attended the event, Expanding the Stream, hosted by Streamlabs. In this guest post, he shares his insights from the conference and why he thinks live streaming is the future of media.
---
I recently had the incredible opportunity to attend an eye-opening event highlighting the future of live-streaming. The event, Expanding the Stream, was hosted by Streamlabs. Streamlabs creates tools for live streamers that enable them to engage, grow and monetize their audiences on Twitch, Youtube, and Facebook Live. Over 70 percent of all Twitch streamers use Streamlabs to power their streams. At this event, I got the opportunity to learn from some of the brightest individuals in the live streaming industry and I wanted to share some of those learnings.
In case you aren't familiar with live streaming, live streaming is the technology used to deliver live video in real time to the viewer. There are hundreds of live-streaming platforms across the world, such as Twitch, Facebook Live, Periscope, YouTube, Instagram, Live.me, Mobcrush, etc.
Millions of users across the world live stream content every day, and even more, people watch these live streams. The content of these streams ranges from casual Q&As to watching your favorite video game personality beat a game. Live streaming has historically been associated with esports and gaming, due to the popularity of Twitch. Twitch, which was acquired by Amazon in 2014, is the world's leading live streaming platform for gamers. More than 15 million gamers gather every day on Twitch to broadcast, watch, and chat.
Despite the fact that video gaming is by far the most popular live streaming category in the United States, over the past few years, we have seen the rise of new content on live streams. Facebook Live, Instagram, YouTube, and Periscope have played a critical role in broadening the lens of live streaming.
The most common question I heard at the conference was: why is 'live' important?
Warren Reid, a Live Solutions Specialist at YouTube, answered this question brilliantly with this slide.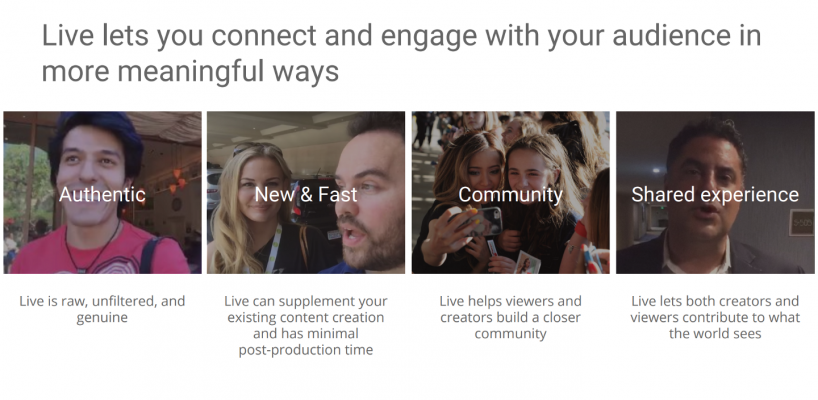 (YouTube Presentation at Streamlabs, Warren Reid)
Live streaming is undoubtedly the new television. It is the perfect blend of authentic, engaging, exciting, and new. I personally spend several hours a week watching my favorite streamers on Twitch because it is both authentic and communal.
Given that the live content on Facebook Live, Instagram, Periscope, and YouTube is not solely focused on gaming, several speakers and panelists from these companies discussed what type of content works well for live streaming.
I was extremely intrigued by this and concluded that live streaming is perfect for three major formats:
Question and answers — Live allows you to have a two-way real-time interaction with your audience.
Community promotion — Live enables you to engage your community and have them feel part of your next project.
Real-time response — Live encourages you to react to breaking news, new uploads, technology, and more.
Live streaming is in its infancy and I'm excited to see how more individuals and brands creatively leverage these platforms to authentically engage with their audience. The most creative and popular live stream of the past year was actually from Animal Adventure Park as they live streamed the pregnancy of April the giraffe. The live stream accumulated over 232M views.
Streamlabs put together an amazing event highlighting some of the brightest minds in this industry, while also solidifying my thesis that live streaming is the future of media. As a venture capitalist, my job is to follow the latest trends across a wide range of industries. Live streaming platforms and streaming tools are two areas that I believe there is a tremendous opportunity for innovation. Specifically, I think we will see large success stories with standalone live streaming platforms for specific content, such as cooking, fitness, and music.