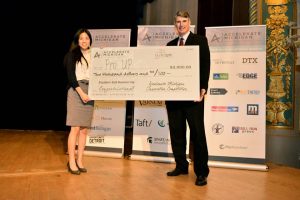 Michigan Venture Capital Association members are lending their expertise to the judging panels at the 2016 Accelerate Michigan Innovation Competition (AMIC) on November 3.  AMIC, one of the Presenting Sponsors at the 2016 MVCA Annual Awards Dinner, is Michigan's premier business plan competition and highlights the state as a powerhouse for business opportunity and next generation technology. AMIC showcases the best and brightest seed-stage businesses to regional investors while awarding nearly $1 million in prizes. Previous AMIC prizewinners have gone on to create over 1,000 jobs and raise more than $550 million in venture capital.
Thirty MVCA members will serve as semi-finalist judges at the day-long competition, narrowing down the 36 semi-finalists to determine which companies will win a piece of the million dollar prize. During two sessions, the semi-finalists will each give a 10-minute presentation. The judges will then ask questions of the founders and score each company on the following categories:
Technology & Product Overview
Market Opportunity
Business Model
Team
Financials
Ten of the 36 semi-finalists will advance to the finals, to pitch at the AMIC Gala Award Ceremony at the end of the day. Each company will be given five minutes to present their consolidated pitch and the judges will have one minute to ask any remaining questions. The top four companies will be decided by the finalist judges and announced at the close of the evening.

Register today for the best event series in Michigan: AMIC and the 2016 MVCA Annual Awards Dinner! Hosting both events on consecutive days in Detroit is expected to attract attendees from around the country to participate in and celebrate the success of the entrepreneurial and investment community in Michigan. Make plans to be there, here!
Meet the AMIC Semi-Finalist Judges
David Donovan
Capital Community Angel Investors

Tom Shehab
Arboretum Ventures

Doug Neal
eLab Ventures

Jody Vanderwel
Grand Angels

Mark Horne
Plymouth Ventures

Jeff Barry
Plymouth Ventures

Charles Hess
Firefox Ventures LLC

Brian Hamilton
Michigan Accelerator Fund I

Dale Grogan
Michigan Accelerator Fund

Jared Stasik
Detroit Venture Partners

Hugo Braun
North Coast Technology Investors

Jonathan Triest
Ludlow Ventures

Adrian Fortino
Mercury Fund

Walt Young
Angel Investor

Jonathan Murray
Draper Triangle Ventures

Gabe Karp
Detroit Venture Partners

Jim Adox
Venture Investors

Ryan Waddington
Arsenal Venture Partners

Paul Brown
eLab Ventures

Evan Ufer
Plymouth Ventures

James Chapman
Rock Ventures

Josh Beebe
Arbor Partners

Patti Glaza
Invest Detroit Ventures

Nancy Philippart
BELLE Michigan

Jason Townsend
Resonant Partner Ventures

Matt Bell
Cultivian Sandbox

Pete Farner
TGap Ventures

Tony Grover
RPM Ventures

Kevin McCurren
Grand Angels

Charlie Moret
Invest Michigan

Meet the Student Competition Judges*
John Bonhard
Beringea

Sean Kearney
Three Leaf Ventures

Chris Stallman
Fontinalis Partners

Adrian Ohmer
Invest Detroit Ventures

Dan Ratliff
Fontinalis Partners

Brett DeMarrais
Ludlow Ventures

Reda Jaber
IncWell

Sabrina Hadinoto
Venture Investors

Brian Yormak
Resonant Venture Partners

Blake Robbins
Ludlow Ventures


*For more information on the student competition, click here.