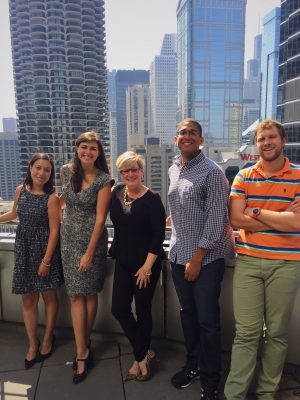 This month, MVCA kicked off a multi-city outreach tour starting in Grand Rapids, then Chicago, and as the last stop, Boston. Each year, the team travels to different locations across the country to meet with venture firms to share the exciting activity happening in Michigan's entrepreneurial and investment community and help coordinate Immersion Days for those who are interested in investing and working in Michigan. Because every dollar invested in a Michigan startup by a Michigan-based venture capital firm attracts $4.61 of investment from outside of Michigan, these outreach trips are an effective way to bridge connections between out-of-state partners and Michigan venture capital firms to bring more capital to the state.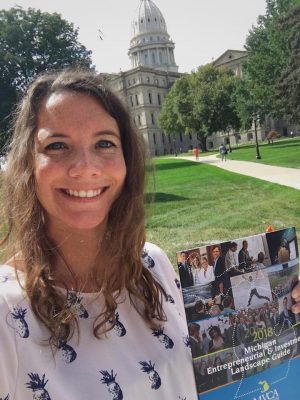 First, we held our Investor Only Networking Reception in Grand Rapids at Founders Brewery. The following evening, we hosted another Investor Only Networking Reception during the Venture Summit in Chicago! Both events were great opportunities to connect with our members and out-of-state partners. In addition to the outreach tour, we went to Lansing to distribute the NEW 2017 Michigan Entrepreneurial and Investment Guide to legislators, and present at the MEDC SmartZone meeting. We also attended the Venture Dinner hosted by VentureOhio (a fantastic investor event!) and said hello to our Ohio members and friends! It was a whirlwind couple of weeks that allowed us to foster meaningful relationships with out-of-state partners and come back with a wealth of information.
Here are our key takeaways from the outreach tour:
1.  People are SO excited to hear more about Michigan's entrepreneurial & investment community! 
Investors we met with in Chicago and Boston were excited to hear about how they can get plugged into the entrepreneurial and investment community in Michigan. Many expressed an interest in meeting with Michigan investors and entrepreneurs at the 2017 MVCA Annual Awards Dinner!  People have been hearing how nationally Michigan ranks 18th in venture capital invested but ranks in the top ten in research spending, number of PhDs in science and engineering, and the number of invention patents issued – so they've been waiting for the invitation to get connected.
2.  Being able to create meaningful connections is a powerful thing. 
One of the primary goals of the 2017 Michigan Entrepreneurial and Investment Landscape Guide is to foster a collaborative entrepreneurial and investment community. By building relationships and connecting Michigan investors with out-of-state partners and resources, Michigan can create more economic opportunities for everyone in the long run and build a stronger entrepreneurial and investment community.  The Landscape Guide continues to be a powerful tool for creating meaningful connections for out-of-state investors and entrepreneurs – people were shocked at how easy it was for them to figure out how to work with Michigan's entrepreneurial and investment community!
3.  The venture capital community is ever changing. 
At the Chicago Venture Summit, we listened to a fantastic panel featuring Ben Horowitz of Andreesen Horowitz, and Don Thompson and Liz Thompson of Cleveland Avenue. During the discussion, Horowitz identified significant changes he has seen in the venture capital community over the last 15 years:
The venture community has broadened – with the rise of seed investing, the landscape is becoming more inclusive
More people are starting companies – accelerators are making it easier to access the talent and capital needed to launch a company
The best venture capital investors are those that build the best connections – VCs have a vast network to partner with a startup company as they grow
These are things we have definitely witnessed in Michigan with the tremendous growth of the entire entrepreneurial and investment community.  The ability to create meaningful connections between capital, talent, and research seems imperative to successfully grow a community.
Who we met with in Chicago and Boston
In Chicago, we had the opportunity to meet with West Loop Ventures, Hyde Park Ventures*, Corazon Capital, M25 Group, Origin Ventures, and S2G Ventures. In Boston, we met with Bain Capital Ventures, 5AM Ventures*, Cue Ball Capital, Cambridge Associates, Fontinalis*, 406 Ventures, and the New England Venture Capital Association.  You can find out more about these organizations by visiting our Landscape Map!
*MVCA Member
Take a look at our Outreach Trip!
To connect with any of these venture firms, please feel free to contact us and we'll make an introduction. Additionally, you can view their contact information on our interactive Landscape Map! Next up is the 2017 MVCA Annual Awards, our largest event of the year. If you would like more information on the event, click here.
Thank you to all venture firms and organizations who met with MVCA in Chicago and Boston!