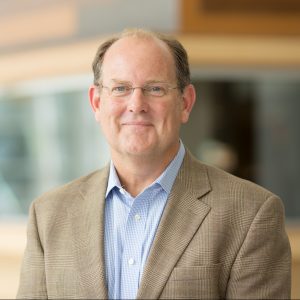 It's been a busy year for MSU Foundation since the formal launch of Red Cedar Ventures in 2016! The fund deployed over $1M in seed and follow-on funding in 20 separate transactions to entities involved in commercializing technologies created at Michigan State. Michigan Venture Capital Association spoke with MSU Foundation Executive Director, Dave Washburn, to discuss the growth of Red Cedar Ventures, the role universities play in fostering entrepreneurship and innovation, and the importance of venture capital to fuel an entrepreneurial economy in Michigan.
---
Share on Twitter: Read the exclusive Q&A with @MSUFound Dave Washburn on why access to capital is essential for #entrepreneurs https://ctt.ec/20_Dj+
---
Tell us about Red Cedar Ventures. What sectors and stages do you invest in?
Red Cedar Ventures is the Michigan State University Foundation's venture investment arm, focusing on providing early-stage funding to startup companies coming out of the Michigan State University system. We are often the initial source of capital for MSU faculty, staff, and student startups, providing cash to, say, paper-up a company, build a prototype, or conduct research into how a startup fits into the market.
We see ideas that reflect MSU's traditional strengths—from agriculture, supply chain, packaging, and engineering. Our students tend to focus on consumer-facing ideas, like mobile apps. Thanks to the Global Impact Initiative, MSU is hiring over 100 new faculty and we're starting to see interesting ideas around energy, health, national security, Internet of Things, fintech, and precision medicine. We do not target any particular sector.
Regarding stages, Red Cedar Ventures focuses on investing the first money at the idea/pre-seed stage. We also have the capacity to participate in future funding rounds in partnership with strong lead investors.
Red Cedar Ventures officially launched the fund in late 2016. Why was this the right time to start a venture capital fund at MSU?
Over the last eight years, MSU has undergone a deliberate, staged revolution in the way it approaches innovation management, investing in its tech-transfer arm, MSU Technologies, as well as its corporate engagement arm, MSU Business Connect.
In 2011, we saw the launch of Spartan Innovations, which serves as an engine to create new companies to commercialize MSU technologies. Over the past six years, our team at Spartan Innovations has been focusing on areas of programming intended to promote entrepreneurship, both at MSU and across the region. We have business plan competitions, graduate student engagement, entrepreneurs-in-residence, mentor development, speaker series, business accelerators, and alumni engagement. With a growing pipeline, it was necessary to add a funding mechanism to help get companies coming out of that pipeline started and, when appropriate, continue to stay invested in the companies. Hence, the formation of Red Cedar Ventures.
We have been quietly doing pre-seed investment in MSU-based companies since 2014. In early 2016, we decided to give these activities a name and a presence.
Can you provide some information about the funding process with Red Cedar Ventures?
Red Cedar Ventures is a component of our overall innovation management practice overseen by the MSU Innovation Center.
At the top end of the funnel: ideas and opportunities are disclosed to MSU Technologies. After their team has done an assessment of an invention and determined an IP protection strategy, a subset of these ideas is provided to the team at Spartan Innovations, who then perform additional work on assessing a technology's suitability as the basis of a startup.
Along the way, MSU provides access to unique funding opportunities to further advance the technology. These include our Strategic Partnership Grants, MTRAC, and Targeted Support Grant for Technology Development programs. Much of the technical and market derisking take place during this phase.
Those companies making it through the rigorous assessment process at MSU Technologies and securing IP protection often receive commercialization grants. Those technologies showing the most promise within the marketplace move to Spartan Innovations, where the process—Discovery, Validation, and Launch—results in the creation of a strategic plan that includes matching the startup with talent and funding.
By the time an idea hits Red Cedar Ventures, it's had quite a bit of early due-diligence performed already and a fully formed plan put in place. Red Cedar funds the plan.
What role do you think universities play in building a strong entrepreneurial and investment community in Michigan?
 We believe universities play an intrinsic, catalytic role in the community through the commercialization of groundbreaking technologies. When done right, taking research out of the lab creates dramatic impact along so many dimensions, including job creation and economic diversification.
I think universities are fundamental to building a healthy, thriving entrepreneurial and investment community. Across the state, our faculty and researchers are doing extraordinary work, and by investing in the work being done at Michigan State, we are helping affect the common good in uncommon ways.
Why is venture capital an essential resource to support entrepreneurs?
All of the ideas coming out of a university are very high risk—meaning they require time, resources, and expertise to turn them into realities. The federal funding that pays for this fundamental research eventually ends, leaving a gap between the lab and the marketplace. Getting late-stage research into a prototype is where these kinds of programs—and eventually venture capital—come in to help.
Venture capital moves the ball forward for many entrepreneurs. More importantly, though, is access. For decades, entrepreneurs searching for capital had to leave the state to find opportunities, effectively draining talented, motivated entrepreneurs. Today, it's a different story.
Based on your experience, what qualities do you think make a great CEO?
I think it's a combination of a number of attributes that make a great CEO. Individuals should have vision, lots of charisma, and the ability to connect with people. They should have deep domain knowledge and have the ability see and act upon opportunities that others miss.
What are the startups that grew from innovations developed at Michigan State University that stand out to you? 
There are several startups that grew from MSU innovations, including CiBo Technologies, MTBI Sense, Drawbridge, XG Sciences, and BioPhotonic Solutions.
What's next for Red Cedar Ventures?
Over the next four years, we expect to deploy roughly $750k per year to over forty new startup companies. Our biggest challenge is figuring out how to help these companies succeed. This means preparing them to raise additional capital and find the right advisors, mentors, and management teams. The Michigan Venture Capital Association is an invaluable resource—not only to our team and startup companies but also to Michigan's entrepreneurial community.
Thank you, Dave Washburn, for speaking with MVCA!