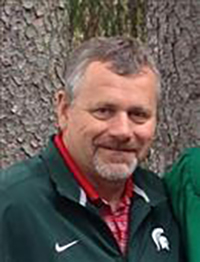 The Michigan entrepreneurial and investment community lost a friend and colleague last week as Bob Clone, the former head of private equity for Indiana and a long-time private markets investor with the State of Michigan Retirement System, passed away after a year-long battle with cancer. A long-time Mid-Michigan resident, Bob is survived by his wife, Marianne, daughter Stephanie, and son Benjamin.
"To me, Bob was the epitome of kindness," said Mahendra Ramsinghani, founder of Secure Octane and former director of Michigan's First Step Fund and the former Michigan Economic Development Corporation's venture capital group. "His balanced view helped grow Michigan's venture ecosystem and the State of Michigan Retirement System was able to build partnerships under his able guidance. When I was working on my book, he spent countless hours with me to help understand the LPs' viewpoint. I will forever be grateful to Bob for his genuinely caring and selfless attitude."
Renaissance Venture Capital Fund CEO and Fund Manager Chris Rizik remembered the early part of his career, when Bob was a friendly ear off which he could sound ideas. "Bob was one of the most helpful and open investors around. He took meetings with everyone, and he would spend time with new venture funds to help make them better, even if he was unable to invest in them. We will miss his approachability and his kindness immensely," Rizik said.
During his successful career at the Michigan Treasury, Bob invested in many top venture funds and knew the venture industry well. Past MVCA Chairman and Venture Investors Managing Director Jim Adox said: "Bob was always willing to share his knowledge and connections in the industry to help venture funds in Michigan be successful – he did both for Venture Investors, and he was one of our most value-add investors. Whether he chose to invest in your fund or not, everyone always said, "Bob Clone is a good guy," and I agree."
Bob stayed active in Michigan's venture community even after his retirement, when he served as a mentor in the MVCA ExeConnect program. Maureen Brosnan Miller, Executive Director of MVCA, remembered Bob as an advocate for entrepreneurs, who benefitted from his guidance and expertise. "Bob had the unique ability to instantly understand where he could add value to a program and he willingly offered not only his talents, but his enthusiasm and broad range of connections to advancing startups. He will be greatly missed by all of us in the Michigan venture community. We are richer for having known him."