By Maureen Miller Brosnan, Executive Director, MVCA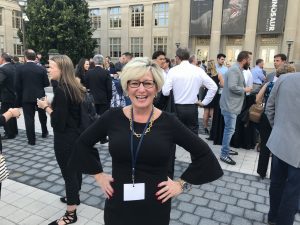 The Ohio venture capital community has seen continued growth since our last extended visit, so MVCA was eager to get back to connect with our members and out-of-state partners!  Between meetings with some of Ohio's leading venture firms and an evening spent at the VentureDinner, I found a lot has changed in their entrepreneurial ecosystem.
We were pleased to have MVCA member Hirak Parikh, Program Manager for the Monroe-Brown Biomedical Seed Fund at the University of Michigan, join us on our trip. Hirak helped us answer the often-asked question, "What are some of the great ideas coming out of Michigan's universities?"  His $3 million fund provides necessary early-stage capital to promising University of Michigan biomedical startups to help commercialize their research, bridging the gap between existing University of Michigan grant programs and traditional venture capital.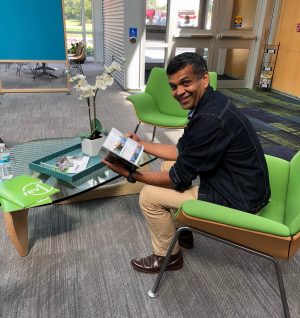 "The Ohio outreach program was a fantastic opportunity to share the Michigan story with venture investors and startups who may connect with our mission.  I found there to be a lot of potential for synergies and co-investment opportunities for MVCA members among the firms we met," Hirak commented.
Columbus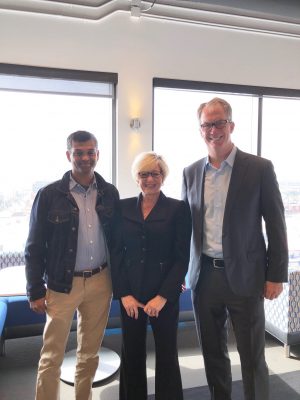 Our first stop was at Drive Capital to meet with partner Mark Kvamme.  We dug right in and talked about a variety of important topics, like why the Midwest is a great place to invest, and we plugged exciting Michigan entrepreneurs like Genonenon and Parabricks, who are in Drive's industry target.  And we cheered on the exciting things happening at Clinc, one of Drive's Michigan-based portfolio companies.  Clinc was nominated for the 2018 MVCA Up-and-Coming Company of the Year Award, and Drive shares our community's excitement about this company!
From there it was off to a whirlwind meeting with early stage investor Rev1 Ventures and the informative Wayne Embree, Executive Vice President, Investment and Venture Acceleration.  There, we learned that 125 startups are selected for their accelerator program each year, where they're connected to mentors, expert services, corporate first customers, and top talent.  Resources are drawn from the dozens of Fortune 1000 companies who are helping the Rev1 portfolio build the right foundation for market disruption and ultimately, business growth.
From there, about 30 companies advance through the Rev1 Learning Labs program, where entrepreneurs can dig deep into important topics in a peer-to-peer environment and receive investment.  Not an incubator nor a traditional accelerator, Rev1 connections move in both directions – building startups and connecting corporate partners to disruptive startups to benefit both, in a broad range of high-growth tech sectors, including IT and health IT, biosciences, advanced materials, agribusiness, and advanced and alternative energy.
VentureDinner
That evening, the MVCA team joined entrepreneurs, investors, elected officials, and community leaders at VentureOhio's annual awards dinner, the VentureDinner.  VentureOhio, Ohio's venture capital association, honored its brightest stars, where many from the startup community were named to the 2018 Watchlist.  We hope to see some familiar Ohio faces at the 2018 MVCA Annual Awards Dinner on Tuesday, October 2!
Cincinnati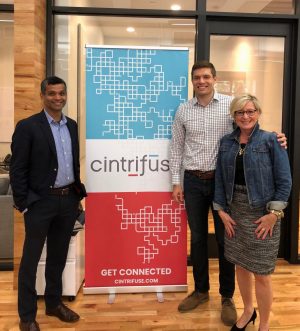 Cintrifuse's Syndicate Fund Principal Nick Faulkner was our tour guide and resident expert on all the exciting things going on at Ohio's fund-of-funds.  Cintrifuse recently moved to Union Hall, a newly renovated 38,000 sq. ft. building where disrupters can come to roll up their sleeves and get to work.
Cintrifuse, along with the Brandery and CincyTech, are all located in Cincinnati's historic Over the Rhine neighborhood, a thriving beer-soaked powerhouse of culinary delight and entrepreneurial energy. This exciting new space is quickly becoming Ohio's premier workspace for creative thinkers and doers.
Centrifuse is also gearing up for the arrival of their new CEO, Pete Blackshaw.  Blackshaw served as Global Head of Digital and Social Media, and more recently as Vice President of Digital Innovation & Service Models, at Nestlé, S.A.  They expect to raise a second fund targeted at $50-85 million in the near term, an exciting development for their state.
Centrifuse neighbor Allos Ventures was our next stop.  John McIlwraith, Allos Managing Director, has moved his firm since we were last in Cincinnati, and is now in a space shared with Ocean Accelerator, a unique accelerator where faith and entrepreneurship intersect.  Allos Ventures is an active member of MVCA, and John at one time served on the MVCA board of directors, sharing his experience building VentureOhio.   Allos is currently raising their third fund, targeted at $75 million.
A chance to catch up with MVCA member River Cities Capital Fund and lunch with Dan Fleming and Rob Heimann was our final stop on our outreach trip.  Dan and Rob gave us a great snapshot of the number of deals they've looked at in Michigan, how they found them, and what stage and sector they want to invest in.
It's exciting to see the Midwest entrepreneurial ecosystem continue to grow and Ohio is one of the main drivers of this growth.  In addition to the outreach tour, we were also able to distribute the NEW 2018 Michigan Entrepreneurial and Investment Landscape Guide which can better help connect Michigan and Ohio's entrepreneurial and investment communities.  It was a whirlwind couple of weeks that allowed us to foster meaningful relationships with out-of-state partners and come back with a wealth of information.  We were inspired and are looking forward to connecting with Ohio's entrepreneurial and investment community again soon!
To connect with any of these venture firms, please feel free to contact me and we'll make an introduction! Additionally, you can view their contact information on our interactive Landscape Map! Next up is the 2018 MVCA Annual Awards Dinner, our largest event of the year. If you would like more information on the event, click here.
Thank you to all venture firms and organizations who met with MVCA in Ohio!