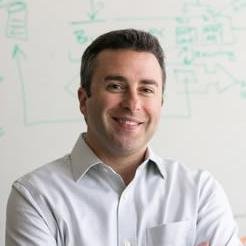 Earlier this month, Troy-based startup, Autobooks, closed a Series A funding round led by Draper Triangle with Baird Capital, Detroit Venture Partners, and Invest Michigan. The company expects to double its number of employees and open an office in one of the most popular cities on the rise – Detroit. To learn more about the company's growth and plans, we reached out to Autobooks CEO and Co-Founder, Steve Robert.
Before we jump into the specifics of the recent financing announcement, can you provide background on Autobooks?
Autobooks is a SMB cash management platform that brings together much-needed tools for small businesses.  We have bundled receivables, payables, payments AND accounting and directly integrated it into many Internet Banking platforms, making it easy for a financial institution to offer these highly valuable services to their SMB customers. Put differently, if you are familiar with your banks "bill pay" – where they've made it easy to pay bills and move money OUT of your account, Autobooks helps businesses send invoices and bring money INTO your account.
What is the core problem Autobooks solves?
Small businesses lack simple tools to help them run their business and most importantly manage cash flow.  Today, a small business must use several tools to solve individual problems; they must find them, learn them, and pay for them separately and they weren't designed to work together.  Autobooks changes that, everything you need to run your business, for one fee, from one place – your primary financial institution.
Why did you decide to start the company?
When building our prior business, Billhighway, we observed first hand how transformational cash management tools could be.  Our customers had similar challenges: part-time staff, lack of time and antiquated tools.  With Autobooks, we bring similar tools down market to help serve small businesses – without the intimidation factor or learning curve typically associated with accounting systems.  If you can send an invoice and pay a bill, Autobooks can help you achieve accounting – to run a better business.  There are over 30M small businesses in the US alone, and 80% are not currently using a cash-management system.  Many of these businesses are still using checks, desktop software, and file cabinets – we're going to help them build better, modern and thriving businesses.
What is the number of employees at Autobooks?
We currently have nine employees and expect to have approximately 25 by year end.
Autobooks is located in Troy, Michigan and you worked with Michigan-based investors for your recent funding round – why did you decide to build the company here?
We're Michigan natives; it was an easy decision.  Before we spoke to national investors, we started here first.  With growing interest in the fintech community, geography isn't an issue, and we aim to demonstrate that innovative, high-growth businesses can be built anywhere – especially in Michigan!
How will the recent venture capital financing be used to build Autobooks?
Recent funding really helps us expand our operations and distribution partnerships.  We've built a tremendous backlog, and with many more customers coming online, we need to build out more capacity.  We're technologists, so much of our application and service offering can be automated; however, it's important we give our customers, and their customers 'high-touch' – exceeding expectations on all fronts.
What do you think is a trend to watch regarding the startup community in Michigan?
Probably the same trend as we're observing in industry – partnerships.  Density and collaboration can help compress learning cycles and materialize opportunities faster.  Sharing resources, connections, and technology should help give our region an unfair advantage.  We just need to keep pushing for inclusion in the startup ecosystem and encourage more experienced operators and investors to devote time, coach and mentor the high-potential entrepreneurs we have in our community.
What's next for Autobooks, down the road?
First, we're hiring, over-achievers – apply within!  Next, we'll be looking to open up a Detroit office and expand nationally soon thereafter.  This is a business that can scale quickly, we're in the early innings, and for now, that requires a certain discipline to lay the foundation for a business that can sustain itself through future growth cycles.