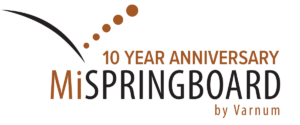 MiSpringboard is Varnum's statewide initiative designed to remove some of the barriers associated with starting a business by providing free legal services to Michigan startups.
Varnum launched the MiSpringboard program in 2011 as a way of helping Michigan's then-struggling economy with a commitment of $1 million in free legal services. MiSpringboard was our way of helping the economy by doing what we do best – providing high-quality legal counsel to qualified businesses and individuals.
Due to the overwhelming success of this program, in 2016 Varnum renewed its commitment to Michigan startups by dedicating a second $1 million in free legal services through the MiSpringboard program.
READ MORE ABOUT THEIR REFERRAL PROGRAM: 2021_10 MiSpringboard Referral Partner