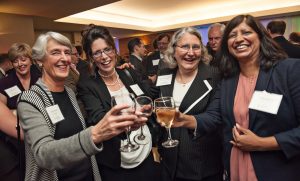 In honor of International Women's Day, we wanted to shine a light on diversity and inclusion in Michigan's entrepreneurial and investment community. This past month, MVCA participated in educational conferences on diversity and inclusion hosted by The Aspen Institute and Inforum Michigan that discussed how the entrepreneurial and investment community can better serve underrepresented groups. Additionally, we had the pleasure of hosting Kate Mitchell of Scale Venture Partners, who is the chairman of National Venture Capital Association (NVCA) Inclusion and Diversity Task Force,  as a special (virtual) guest speaker at our most recent MVCA member-only networking reception. As a result of these events, we gathered several key takeaways that provide tactical steps entrepreneurs and investors can take to build a more inclusive and diverse community and organizational culture.
---
Here are our key takeaways:
1. More progress can be made to create a more diverse and entrepreneurial and investment community.
In 2014, MVCA started examining trends regarding the presence and roles of women and other underrepresented groups to identify policy and program needs in Michigan's entrepreneurial and investment community as part of its MVCA Diversity & Inclusion Initiative. While Michigan meets or exceeds the national rates, the state can exceed these standards and set a benchmark for the industry.
According to the 2017 MVCA Annual Research Report, the percentage of female venture capital professionals in Michigan has remained consistent from year to year at just above 14% of the total community. Michigan is more diverse in this regard than the national venture capital investment community. Nationally, only 11 percent of venture professionals are female, despite women comprising over 46% of the U.S. labor force.
Nationally, 26% of venture professionals were minorities in 2016, a significant increase from the 13% reported in 2015. Michigan remains below the national average and saw a slight decrease n the number of venture capital professionals who were minorities from 9% in 2015 to 7% in 2016.
2. Bridging meaningful connections remains a powerful thing.
We've noted before from outreach trips the importance of bridging connections geographically to strengthen our community and this also applies from a diversity perspective. According to a recent article in The Guardian, research shows that often our social interactions tend to be with people like ourselves. Therefore, it is critical to expand and diversify our networks. Having an explicit statement to show your organization's commitment to a diverse and inclusive organizational culture – and exemplifying these values through leadership's actions – can help establish trust and attract a more diverse talent pool. Additionally, expanding your traditional communication channels and engaging with trusted leaders from different social groups can help bridge connections to other networks in the community. Furthermore, providing educational resources through diverse channels about ways to access capital is necessary to broaden the funnel of top-tier entrepreneurs.
3. Implementing diversity and inclusion initiatives is about building champions for the community.
One important element that emerged from our discussions is empowering the current majority to act as advocates and leaders in building a more diverse and inclusive entrepreneurial and investment community. For instance, as part of the requirements of the Venture Fellows Program, venture fellows are required to attend unconscious bias training in addition to providing a written statement that shows their dedication to diversity and inclusion. Through education and training, we can foster leaders who value the importance of diversity to advance Michigan's entrepreneurial and investment community.
4.  Be conscious of policies and language to foster an inclusive organizational culture.
According to Kate Mitchell of Scale Venture Partners, organizations can help foster a more inclusive environment by changing social behaviors in the office. For instance, let's say an employee with a leadership role will be out of the office to attend a parent-teacher conference or watch his or her child's violin concert. Instead of marking these events as private appointments on his or her calendar – be loud and proud about it! Allow employees to see that leaders in the organization are setting aside time to have a work-life balance, and through these actions, show employees that being a parent and having a family will not impact their ability to advance at the company. By doing so, members of Michigan's entrepreneurial and investment community can foster a more inclusive environment for their employees.
Resources for Diversity and Inclusion Initiatives: